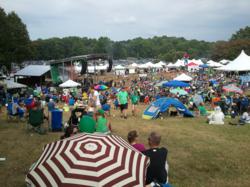 "Having convenient storage containers on hand was great!" said Eddie McGowan, founder of the Annapolis Irish Festival. "Thanks for your help, MyWay."
Crownsville, MD (PRWEB) July 31, 2012
The 2nd Annual Annapolis Irish Festival, held on July 14, 2012, was a huge success. Proceeds from the festival went toward Hospice of the Chesapeake, as well as the SPCA of Annapolis, Chesapeake Bay Trust and The Wellness House of Annapolis. MyWay Mobile Storage of Baltimore donated portable moving containers to help provide storage for the event.
"Having convenient storage containers on hand was great!" said Eddie McGowan, founder of the Annapolis Irish Festival. "Thanks for your help, MyWay."
It was estimated that the festival had more than 20,000 attendees, with approximately 2,000 people lined up beforehand waiting for the event to open. The Annapolis Irish Festival featured musical entertainment from the bands Scythian, The Screaming Orphans, Albannach, The Rovers, The Rogues, Ice Wagon FLU, the New Century American Irish-Arts Company, Barleyjuice, Seamus Kennedy, Kilmaine Saints, Crossing Celtic, Brendan's Voyage and TIPSC. This year a third stage was added to provide room for all of the bands.
Festival-goers had more than just music to enjoy. More than 120 vendors lined the grounds with booths filled with jewelry, tee-shirts, crafts and trinkets. Children took delight in pony rides, a magic show, face painting and more.
The storage containers from MyWay Mobile Storage of Baltimore helped facilitate the activities at the Annapolis Irish Festival by efficiently providing on-site storage throughout the grounds. "I will definitely look you up in the future," said McGowan.
About MyWay Mobile Storage
MyWay Mobile Storage is the leading provider of moving and storage solutions. They provide quick and easy do it yourself moving containers that can be delivered right to your door and stored in their climate controlled, secure storage facilities. To learn more visit http://www.mywaystorage.com or call (888) 336-9929 to speak with a Moving & Storage Consultant.