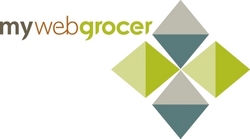 Our ability to reach 3.5 Million grocery shoppers a month combined with our measurable consumer insights has driven our clients' success in 2008
(Vocus) January 6, 2009
Colchester, VT -- MyWebGrocer has grown during 2008 to be the largest grocery advertising network in the US by providing relevant, timely and measurable impact on 90 grocery retailer's web sites.
MyWebGrocer's advertising network hosts some of the biggest names in the consumer packaged good industries including industry leaders like Kellogg's. Kellogg's has been an early MyWebGrocer advertising client that has had great success explains Kamela Warren E-Business Customer Manager, "Kellogg's online advertising with MyWebGrocer has shown double digit product sales growth online from 2007-2008. The ability to track and report sales enable us to test and forecast what works in online grocery."
Over 170 branded advertisers found success on the MyWebGrocer Ad Network in 2008. "Our ability to reach 3.5 Million grocery shoppers a month combined with our measurable consumer insights has driven our clients' success in 2008," said Alec Newcomb the Vice President who runs the MWG Ad Network.
Advertisers aren't the only ones benefiting from the success of the Ad Network. MyWebGrocer's retail grocer clients have also materially benefited from the Ad program as space on their websites becomes real estate available for revenue generating opportunities. Since 47% of the consumers who click on a banner purchase an item; the Ad Network drives both sales and new revenue for Retail partners. Some of these retailers include ShopRite, Lowes Foods, and most recently Roche Bros.
About MyWebGrocer:
MyWebGrocer was one of the first to launch online Software as a Service for retail grocers in 1999. MyWebGrocer increases basket size, acquires new customers, retains current customers, and drives revenue in-store and online business for their clients. MyWebGrocer has the largest grocery advertising network in the country covering 85% of the US, earning their clients direct ad revenue. Some of their clients include Shoprite, Lowes Food Stores, Big Y, Food Lion and 90 other leading grocery chains. For more information please visit http://www.mywebgrocer.com or call 1-888-662-2284.
Contact:
Courtney Musella
Phone: 802-857-1237
Email: cmusella (at) mywebgrocer.com
###