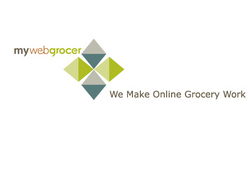 If we didn't use these handhelds, we'd be up a creek!
Colchester VT (Vocus) September 22, 2008
MyWebGrocer is pleased to announce that the MC70 is now successfully deployed in the field, improving picking efficiency for our base of 90 Grocery Retailers.
The MC70 developed by Symbol enables MyWebGrocer's retailers to be more efficient when fulfilling online grocery orders. The system operates on Standard Microsoft WinMobil 5.0 Operating system. It has a color display and a backlight to aid personal shoppers. This new handheld is the most rugged and durable in the market today. The increase in memory supports more order features such as displaying full customer's order notes as well as full item descriptions.
"The New Symbol Handheld device is an exciting progression in efforts to make the fulfillment process for Retailers more efficient and cost effective," explains Curt Alpeter, Senior Vice President of MyWebGrocer. "Driving costs down and continually increasing the ROI in online shopping is a perennial goal for any retailer involved with ecommerce. The new MC70 will increase order fulfillment accuracy and decrease the amount of time it takes to fulfill an order."
"If we didn't use these handhelds, we'd be up a creek!" explains Cathy Shelton Manager of the Lowes Food to Go Program, "Also, having MyWebGrocer come in and train our team on using the handhelds was a significant value-add".
According to Conrad Blickenstorfer, Reporter for Rugged PC Review.com, "Symbol designed the MC70 to provide mobile workers with everything they need to increase productivity and efficiency indoors and outdoors, from field worker's reading meters and repairing equipment to drivers delivering packages, hospital workers checking lab results and medication orders, and more."
Some of MyWebGrocer's retailers utilizing this system today include Shoprite, Lowes Foods, and Harris Teeter. Retailers can expect to see shortened order fulfillment time and an increase in order picking accuracy.
About MyWebGrocer: MyWebGrocer was one of the first to launch online Software as a Service for retail grocers in 1999. MyWebGrocer increases basket size, acquires new customers, retains current customers, and drives revenue in-store and online business for their clients. MyWebGrocer has the largest grocery advertising network in the country covering 85% of the US, earning their clients direct ad revenue. Some of their clients include Shoprite, Lowes Food Stores, Big Y, Food Lion and 90 other leading grocery chains. For more information please visit MyWebGrocer.com or call 1-888-662-2284.
Contact:
Courtney Musella
802-857-1237
http://www.mywebgrocer.com
###