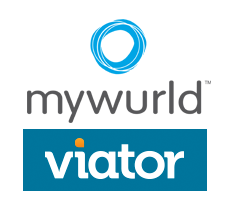 Viator's global reach and mywurld's global potential make this an ideal partnership for years to come," - Riaz Pisani. CEO, mywurld™.
Vancouver, BC (PRWEB) July 02, 2014
mywurld™, Canada's leading travel agent platform, today announces a strengthened partnership with Viator, the world leader in travel activities.
From the latest tours in New York City to exploring the Vatican after-hours in Rome, mywurld offers agents access to Viator's unrivaled collection of global tours, activities, and airport transfers. For nearly 20 years, Viator's unparalleled service and extensive global inventory have made them the premier choice for more than 3 million happy travelers.
"We are delighted to have Viator's support across the Canadian market as we position ourselves to start reaching out to an international travel agent market as well. Viator's global reach and mywurld's global potential make this an ideal partnership for years to come," says Riaz Pisani, CEO of mywurld.
"Viator has been a strong supporter of the Travel Agent community for many years. We are thrilled to expand our partnership with mywurld to enable agents around the globe to access the range of Viator experiences," says Ken Frohling, VP of Business Development at Viator.
Canadian travel agents can now create one-of-a-kind travel experiences for their clients through mywurld's innovative Travel Agent Desktop, all while earning competitive commission. The mywurld Travel Agent Desktop offers travel agents state-of-the-art technology to ensure that the search and booking experience is smooth and hassle-free. Agents can also take advantage of other cross-sell opportunities on mywurld including hotels, and car rentals.
Travel agents around the world can register to use the mywurld Travel Agent Desktop at http://www.mywurldtravelagent.com.
About Viator
Viator is the leading global tours and activities provider for travelers, delivering online and mobile access to thousands of curated trip activities including tours, attractions, shore excursions and private guides, in more than 1,500 destinations worldwide. In-house travel experts work with trusted local operators to en-sure the quality and value of every experience, all backed by Viator's 24/7 customer service and global low-price guarantee. With more than 500,000 verified reviews plus exclusive videos and insider travel tips, Viator has everything a traveler needs to find and book the best things to do worldwide. In addition to the flagship site – Viator.com – travelers can book in advance or in-destination via the Viator Tours and Activities App, as well as local-language sites for European, Latin American and Asian travelers. Viator also provides tours and activities to more than 3,000 affiliate partners including some of the world's top airlines, hotels and online travel agencies. Founded in 1995, Viator is a privately held company head-quartered in San Francisco with regional offices in Sydney, London and Las Vegas. Viator – travel with an insider.
Media Contact:
Kate Sullivan
pr(at)viator(dot)com
(973) 568-7589
About mywurld™
mywurld is a world-class product that brings advanced, patent pending technology to the forefront of the customer experience. Our technology drives real time, highly personalized, customized and relevant con-tent through the life cycle of a purchase, all managed in a single individual platform – mywurld. Learn more about mywurld at http://www.mywurld.ca.
Media Contact:
Mywurld Solutions Inc.
Morgan MacLean
Director of Marketing
morgan(dot)maclean(at)mywurld(dot)ca