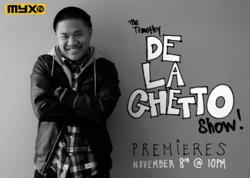 If you need a laugh or if you like my face, you should definitely tune in.
Redwood City, Calif. (PRWEB) November 08, 2011
From the internet to television, MYX TV proudly unveils the next generation of Asian-American laugh out loud comedy with The Timothy DeLaGhetto Show. The half-hour show that premieres this month shows off unconventional skits, one–off sketches, original songs and music videos, and stand up comedy from the mind of YouTube celebrity sensation, Timothy DeLaGhetto aka Traphik. Catch new episodes on Tuesdays at 10pm on MYX TV.
Timothy DeLaGhetto aka Traphik is a Thai American rapper, actor, writer, designer, comedian, and singer (in the shower) who has been entertaining people since he was 5 years old. In school, he discovered his love for hip hop and began writing his own rap lyrics. Gaining popularity, he was frequently challenged to rap battles. A steady collaboration with friends Pedro Flores (PDFlo), Eric Ochoa (SuperEEEgo), and Rick Carter (RickyShucks) led to the formation of PDFlo Films, which later went on to create classic viral video classics like the "Kings of Myspace" and the "Kings of YouTube."
"I've been an entertainer ever since I was a little kid. I linked up with a few friends from my drama class in high school and we started making short films. We would enter those films into contests and film festivals," said Timothy DeLaGhetto. "I started doing stupid videos for my Myspace and YouTube, and eventually more and more people started watching."
On YouTube, Timothy created a channel that now boasts of over 1 million subscribers and over 300 million video views. His channel features skits, songs, and relationship advice. He follows what he calls the "Fresh Prince Format," which is a goal to conquer music, television, and movies.
"MYX TV has always been about bringing the best of Asian American entertainment to our viewers," said Miguel Santos, Associate General Manager for MYX TV. "Timothy DeLaGhetto is a leading online entertainer and we are proud to be the first network to put him on TV with his hilarious brand of comedy."
Sky's the limit for Timothy DeLaGhetto who is undeniably, one of the all-time most subscribed and most viewed entertainers online. With a collaboration with Will Smith in mind as a goal, his current work shatters stereotypes, making him a positive representative for hip hop and Asian American communities.
"If you need a laugh or if you like my face, you should definitely tune in," added Timothy DeLaGhetto. Catch The Timothy DeLaGhetto Show - the first of its kind, comedy and viral show-stopping videos from online to on air, on the channel that represents the best of Asian American entertainment, MYX TV.
ABOUT MYX TV®:
MYX TV is the premier Asian American entertainment and lifestyle cable network in the United States. Dedicated to airing the best in entertainment, MYX TV's programming is a unique combination of original and syndicated shows, including magazine talk shows, interactive music video countdowns, independent film and Asian cinema, and animation, airing 24/7 in English. Broadcast in over 5 million households across the country it provides a platform for Asian Americans on mainstream television and is also represented on its official website by a community of bloggers from coast-to-coast. To find MYX TV in your area and for exclusive content online, visit http://www.myx.tv.
MEDIA ASSET:
TV Commercial: http://bit.ly/vsvgBz
###