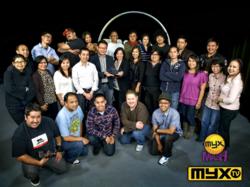 We are so proud that the cable industry has recognized the outstanding contributions of MYX TV as the preeminent Asian American network.
Redwood City, CA (PRWEB) May 26, 2011
Premier industry publisher, CableFax, recognized the country's only Asian American television network, MYX TV, with the prestigious CableFAXIES 2011 award on May 12 at the Grand Hyatt in New York. The network bested television and cable stalwarts in the multicultural marketing category for 2010 concert event, MYX Mash. The award is shared with International Media Distribution, the leading provider of in-language and multi-ethnic programming in the United States.
Set in the historic Civic Center of San Francisco, MYX Mash brought a unique triumvirate of performers with T-Pain, Korean pop sensation Brown Eyed Girls, and Grammy award winner Bruno Mars. The 2010 concert event was a statement on the network's unique programming that seamlessly blends mainstream and Asian music, while spotlighting all things Asian American.
"The passion and talent of the MYX TV team elevated MYX Mash to a whole new level, with a tremendous campaign that sought to entertain and represent the community in a uniquely Asian American way, proving our brand of entertainment can be appreciated by a broader audience," said Miguel Santos, Head of MYX TV. "This honor emphasizes that one of our greatest assets as a network is teamwork."
CableFAX reports and publishes the concise news on industry mergers, personnel changes, technological breakthroughs, programming choices and more through its outlets, CableFAX Daily and CableFAX: The Magazine. Its award programs provide cable professionals the opportunity to showcase their best programs and initiatives of the year and salute outstanding performance by individuals.
MYX TV joined Cox, Time Warner, E! Entertainment, The History Channel, Showtime Networks, HBO, and others at the awards event that saluted the most outstanding communications initiatives and programs in the highly competitive and dynamic cable arena. The coveted awards set industry benchmarks for excellence across all areas of PR and marketing.
"We are so proud that the cable industry has recognized the outstanding contributions of MYX TV as the preeminent Asian American network," says Shelly Kurtz, Executive Director, Affiliate Sales & Marketing for International Media Distribution. "We can't wait to partner with MYX TV on even more innovative promotions as we continue to bring a voice to Asian Americans in new cities nationwide."
Cable, at its roots, is about entertainment and Asian Americans are leading the way with MYX TV.
ABOUT MYX TV®:
With its U.S. headquarters in Redwood City, California, MYX TV was developed by ABS-CBN International, a subsidiary of ABS-CBN Corporation, the Philippines' largest entertainment and broadcasting company, through ABS-CBN Corporation's wholly-owned subsidiary, ABS-CBN Global Hungary Kft. MYX TV is the premier music entertainment and lifestyle channel dedicated to the Asian American community, utilizing music, culture and entertainment. MYX TV can be seen on Channel 368 on Comcast's Digital Preferred Tier in the San Francisco Bay Area and Central California and Channel 673 in Chicago, Cox Digital Basic Cable Channel 479 in Orange County and Channel 474 in Northern Virginia, MCV Cable Channel 16 in Guam and RCN Channel 464 in New York City, Chicago, Boston, Philadelphia and Washington, DC. It is available nationwide on DirecTV channel 2067. For more information, visit http://myx.tv.
###