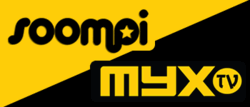 Both brands have blazed trails in Asian and Asian-American pop culture and together, we'll keep leading the movement.
Redwood City, Calif. (PRWEB) June 01, 2011
MYX TV, the premier Asian American television network, announces its partnership with Soompi, the world's largest and longest-running English online media that provides complete coverage of Korean pop culture. Both brands jointly launch Soompi Top Ten, a countdown feature on the hottest K-Pop songs.
"We are so proud to announce MYX TV's partnership with Soompi," says Miguel Santos, head of MYX TV. "Both brands have blazed trails in Asian and Asian-American pop culture and together, we'll keep leading the movement."
Founded in 1998, Soompi has become the ultimate authority for all the latest news on Korean celebrities, music, TV shows, movies and style. It boasts of a dedicated user base from 150 countries. Soompi began as a Korean pop music fan site at the Los Angeles home of Susan Kang in 1998. It quickly gained traction and grew into one of the most distinct brands in the Korean pop culture fan world. In February 2011, Soompi was acquired by Enswers, Inc., a Seoul-based IT venture company specializing in video search technology, and operates as a wholly-owned subsidiary of it.
"Today we are pleased to announce a step forward for Soompi as Soompi partners with MYX TV to bring K-Pop to its growing fan base," says Sherman Li, Chief Operating Officer for Enswers, Inc. "Our companies have the same vision which will allow us greater exposure in the United States and help build a platform for better engagement with the fans. In the future we hope to raise awareness and contribute together to promoting Asian culture and K-Pop. This will be the first step in a partnership that will reach users throughout the world."
The Soompi Top Ten music chart was originally developed and maintained by Soompi, which MYX TV now brings to American television. Soompi followers may vote for their favorite K-Pop artists and music videos on http://www.soompi.com. The Soompiers' Pick, the top voted song, will be featured on the segment. The vignette airs weekly on MYX TV, premiering on Tuesdays.
Get your K-Pop fix, and catch the videos you want to see on MYX TV.
ABOUT MYX TV®:
With its U.S. headquarters in Redwood City, California, MYX TV was developed by ABS-CBN International, a subsidiary of ABS-CBN Corporation, the Philippines' largest entertainment and broadcasting company, through ABS-CBN Corporation's wholly-owned subsidiary, ABS-CBN Global Hungary Kft. MYX TV is the premier music entertainment and lifestyle channel dedicated to the Asian American community, utilizing music, culture and entertainment. MYX TV can be seen on Channel 368 on Comcast's Digital Preferred Tier in the San Francisco Bay Area and Central California and Channel 673 in Chicago, Cox Digital Basic Cable Channel 479 in Orange County and Channel 474 in Northern Virginia, MCV Cable Channel 16 in Guam and RCN Channel 464 in New York City, Chicago, Boston, Philadelphia and Washington, DC. It is available nationwide on DirecTV channel 2067. For more information, visit http://myx.tv.
# # #