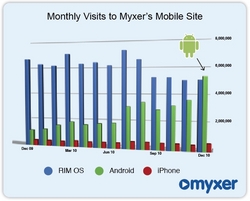 "We noticed early on that Android usage was growing at a much faster pace than the other smartphone platforms visiting Myxer, and that our Android users were very active in their content consumption" - Myk Willis
Deerfield Beach, FL (PRWEB) February 3, 2011
Headlining Myxer's latest BoomBox report is the dramatic growth in the sheer number of available Android based devices. At the end of 2009, Myxer counted only 10 Android handset models visiting the company's website. By the end of 2010, according to BoomBox, there were 101 different Android OS devices visiting Myxer, with 80 different Android devices downloading content from Myxer in December 2010 alone.
The BoomBox Report Year in Review also looks back at the State of the Smartphone Union map originally published in the January 2010 report, showing the State by State breakdown of iPhone vs. Android usage. In the January report the iPhone operating system was leading the Android / iPhone race in 37 of the 50 U.S. States. By December 2010 Android had spread its dominance in 26 States, reducing the iPhone's leadership to just 17 States, with 7 undecided "swing" States. In the January report Android led the way in only 8 States.
Apple wasn't the only one to be pushed back by the Android invasion. In December 2010 Android surpassed BlackBerry as the leading smartphone in terms of visits to Myxer's mobile site, with visits from Android devices growing an impressive 243% over the course of 2010, while visits from BlackBerry handsets declined by 23%.
"We noticed early on that Android usage was growing at a much faster pace than the other smartphone platforms visiting Myxer, and that our Android users were very active in their content consumption," stated Myxer founder and CEO Myk Willis. "The BoomBox 2010 Year In Review clearly benchmarks Android's continued rapid expansion."
Since 2005 Myxer has cataloged various data points: age, gender, geographic location, phone model, manufacturer, carrier, as well as the operating system of each handset that initiated a download from its delivery platform that now supports more than thirteen million monthly unique visitors downloading over 90 million content items from Myxer each month.
To download a copy of the full report, or subscribe to the newsletter, please visit: boombox.myxer.com.
About Myxer
Myxer (Myxer Inc.) is a mobile technology company allowing consumers simple access to free media content for their mobile phone regardless of mobile device, operating system or carrier. Myxer's media catalog contains over 8 million pieces of free and premium licensed content including music, apps, images, games and video all with absolutely no hidden costs or subscription fees. Over 43 million users have performed more than 2.1 billion cumulative downloads from Myxer. Myxer's mobile site m.myxer.com is one of the top ten largest in the U.S. offering the world's most well-known brands unique mobile content opportunities to engage Myxer consumers. Myxer also allows its consumers to create, personalize and share content providing seamless integration from http://www.myxer.com and m.myxer.com with social networks such as Twitter and Facebook. In addition, Myxer offers access to its content through dedicated mobile apps available in Apple iTunes, the Android Market and BlackBerry App World.
Myxer is a registered trademark. Myxer operates websites including http://www.myxer.com and m.myxer.com.
###