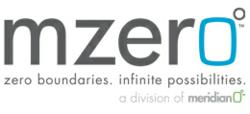 Aberdeen, NC (PRWEB) February 20, 2013
Today, Mzero, the software division of Meridian, released version 8 of their industry-leading self-service software line. With over 20 years experience in the self-service software industry, this new release has the potential to change the way that self-service software is procured. Until now, the software was only available as part of a turn-key solution that included hardware, software platform and application. The new release gives developers the foundation to build applications that are secured, managed and controlled by a robust management platform, allowing clients more flexibility and increasing speed to market.
"Version 8 takes our software to a new level," commented Mzero Software Director Paul Burden. "We've added new interfaces that make it easier to build self-service applications with emerging technologies. It also enables current self-service solutions to add our management capabilities to their existing deployments — giving them unparalleled control, analytics and security, offering savings in support costs as well as increasing the reliability of the solution."
The software packages are now tailored to what different companies need, with 3 bundles available: MzeroGo, MzeroCloud, and MzeroCreate.

MzeroGo, the application launch and security solution, is designed as a standalone kiosk software solution and provides a secure browsing environment with a high-spec user interface.
MzeroCloud, the performance management solution that includes the security features of MzeroGo, is designed to effortlessly manage multiple kiosks in remote locations and helps keep them running at peak performance.
MzeroCreate, the application development solution, provides the development tools that allow the customer to build their custom application on our industry-leading platform, increasing time to market. MzeroCreate also includes the security and performance management features of MzeroGo and MzeroCloud.
The Meridian product line, along with the Mzero platform, caters to client's self-service requirements globally. Best in class self-service solutions are built by integrating Meridian's unique concept to completion methodology with leading technology partners with access to global distribution.
To find out more, visit http://www.mzero.com/kiosk-software/self-service-products.php
About Meridian:
Meridian is an award-winning, established leader in the self-service kiosks industry. Recognized for quality, innovation, flexibility and experience, Meridian provides full-service solutions to some of the largest companies in the world. The Self Service Technology Center (SSTC), in Bentonville, AR, in partnership with Hewlett-Packard, Intel, Microsoft, Storm and Key Innovations, and Zebra Technologies, showcases Meridian's leadership in self-service solutions. The corporate headquarters and kiosk manufacturing facilities are located in Aberdeen, NC and the Mzero software solution center is located in Toronto, Canada.
For more information: http://www.mzero.com or contact Jessica Jordan at 910.944.1751 ext 123