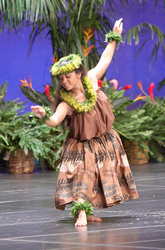 E Hula Mau is a memorable celebration of our Hawaiian culture and is an affordable alternative for families—especially during a time of economical recession.
Los Angeles, CA (PRWEB) May 21, 2010
Na Mamo (The Cherished Offspring) presents E Hula Mau 2010 (The Hula Lives), an annual Hawaiian cultural event in Long Beach, CA. All events are open to the public at no charge except for competition performances, the Mahalo Bash Concert and some workshops. The three-day event will be held from Friday, August 27, to Sunday, August 29. Competition tickets are currently on sale for the event, which returns to the Long Beach Performing Arts Center, Terrace Theater and the Westin Long Beach Host Hotel. E Hula Mau will feature workshops, cultural arts and crafts vendors, community partner services booths and live entertainment.
Ticketed events include the hula and chant competition with participants from the "U.S. continent," and the Mahalo Bash Concert. Held on the evening of Saturday, August 28, the Mahalo Bash Concert will feature celebrated Hawaiian performers such as Auntie Geri & Mehana and Kamaka Brown. A complete lineup will be available as the event approaches.
Pre-sale ticket prices are $18.00 for each day of competition and $30.00 for the Mahalo Bash Concert. A "Weekend Package"—available only until June 1st—can be purchased for $76.00 and includes all three days of competition, award ceremonies and the Mahalo Bash Concert. After June 1st, ticket prices will increase to $20.00 per event day and $35.00 for the Mahalo Bash Concert.
Na Mamo, a nonprofit organization dedicated to Hawaiian cultural preservation, hopes its signature community event will promote cultural tolerance and understanding to all participants and attendees. As the event enters its 16th year of operation, Na Mamo anticipates another sold-out weekend for the popular hula and chant competition and award ceremonies. Attendance for E Hula Mau 2010 is expected to surpass last year's crowd number of 15,000 visitors and participants.
"The theme for E Hula Mau 2010 is "Hali'a Aloha," which means embracing our "Cherished Memories,"" says Mel Napu'unoa, Na Mamo's E Hula Mau 2010 Chair. "E Hula Mau has been a success for the last 15 years because of everyone who participates. E Hula Mau is a memorable celebration of our Hawaiian culture and is an affordable alternative for families—especially during a time of economical recession."
"Na Mamo immerses you into the Hawaiian experience we call E Hula Mau," says Pualani Ober, Na Mamo's President. "We bring to you three days of dance, music, island food, shopping, workshops and all around island fun."
Additional event activities include live outdoor entertainment, a Hawaiian educational lecture on Sunday morning, interactive workshops such as a lei-making class on Saturday, Hawaiian arts and crafts kits throughout the weekend and working with renowned gifted slack key guitar artist Cyril Pahinui on Sunday. Roughly 60 vendor booths will provide authentic Hawaiian-inspired food, goods and services. For more information on the event, ticketing, hotel reservations and weekend scheduling, interested parties may visit E Hula Mau's official website at http://www.ehulamau.org or call (909) 930-3994.
About Na Mamo
Na Mamo®, "the Cherished Offspring," is a nonprofit organization focused on continued community service, educational and leadership enrichment opportunities and most of all, an understanding of Hawaiian culture. In order to educate the community, the organization members are encouraged to learn the Hawaiian culture by participating in various member development events.
About E Hula Mau
E Hula Mau® is an annual event sponsored by Na Mamo®, a nonprofit organization committed to preserving key Hawaiian values through social interaction and education. Since 1998, E Hula Mau® has blended honored traditions with innovative ideas, creating a wonderful Hawaiian experience and feeling of 'ohana (family) for event participants and patrons alike. Dedicated halau (dance schools) will share their rendition of the hula (dance), mele (music) and oli (chant). Workshops will be held throughout the weekend, offering lectures and/or instruction on lei making, music and cultural education. E Hula Mau® will also offer myriad options for food, artisan wares, outdoor entertainment and informational booths for Hawaiian community organizations—all open for the public to enjoy.
###