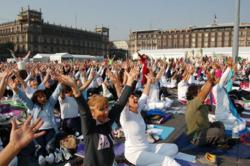 an event dedicated to peace, community and the collective healing of Mexico and the world
Mexico City, Mexico (PRWEB) November 20, 2012
WHO: Naam Mexico will host the third annual NAAM YOGA Super Class, an event dedicated to peace, community and the collective healing of Mexico and the world. The event attracted 1,500 participants in 2010, grew to 12,000 in 2011, and is expected to bring more than 20,000 people in 2012.
Dr. Joseph Michael Levry, founder of NAAM YOGA, returns to Mexico for this historic event, which will feature the unparalleled healing power of Shakti Naam, and set in motion a powerful collective healing vibration for Mexico City.
WHAT: Following the format of last year's NAAM YOGA Super Class in Zocalo, which attracted more than 12,000 people, this event is free to the public, and expected to attract more than 20,000, making it the largest yoga class of its kind in history.
NAAM YOGA'S use of sound, breath, movement and special mantra has a unique and powerful healing impact on the mind, body and spirit, and when multitudes of people come together, the concentrated healing impact and positive energy increases exponentially. Every person present will receive the amplified healing vibrations and contribute to this beneficial transformation of the city, country and planet.
Considered a powerful anti-aging disease defying practice for this modern age, the evolving new Shakti Naam, has its roots in a rare and powerful form of yoga used by two key prime ministers of India, Jawaharlal Nehru and Indira Ghandi.
WHERE: Revolution Monument (Monumento a la Revolucion), Republic Square (Plaza de la Republica, Plaza De La República s/n, Col. Tabacalera, Col. Cuauhtémoc, CP. 06030 Ciudad de México, DF) Mexico City
WHEN: November 25th, 2012, 8:30am CST
Currently reaching thousands of people worldwide, NAAM YOGA® is helping to heal disease, relieve chronic and emotional pain, manage stress and reduce anxiety and depression. NAAM YOGA® LA is a non-profit organization providing an array of classes and community programs, free of charge, addressing specific health challenges through the NAAM YOGA® Therapies Program.
CONTACT:
Naam Mexico: Rebeca Torres or Jimena Ibarra de la Peza 5208-4101
Email: hola(at)naammexico(dot)com
Interviews with Dr. Joseph Michael Levry: Renata Spironello +1-917-957-0809
Naam Yoga: Robert Mirshak +1-917-282-0687 or Amanda Plant +1-917-687-6225
Email: amanda(at)naamyoga(dot)com
Naam Yoga LA, 1231 4th Street, Santa Monica, CA 90401
http://www.naamyoga.com