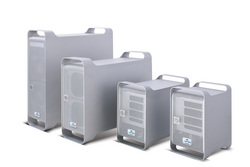 Las Vegas, NV (PRWEB) April 11, 2011
JMR Electronics, Inc., a leading value provider of scalable storage solutions since 1982, has launched their newest product line, SilverStor™ at the National Association of Broadcasters (NAB) Show, April 11-14, 2011, Las Vegas.
SilverStor™ is a direct-attached, high performance storage solution that features a SAS/SATA backplane, PCIe 2.0 connectivity to the host and PCIe expansion within the unit itself. Drives are hot-swappable, SES monitoring and reporting is included and the system can be configured in a variety of ways. These systems can quickly and easily be expanded up to hundreds of terabytes--all in one desktop unit.
"The SilverStor™ systems are reliable, safe, high performance storage arrays," stated JMR's Technical Product Specialist Miguel A. Saldate. "The combination of speed and expansion will give artists the freedom to create their vision as intended without the potential risk of failure prone system builds."
SilverStor's™ combination of SAS/SATA storage, PCIe expansion and patented PCIe host interface gives users the comfort of having their data on a RAID protected system and reliable PCIe expansion that gives colorists, editors, and other digital content creators' maximum time to focus on their projects and not their systems.
"As the bandwidth and processing requirements of new digital media have grown, editors, colorists, and VFX users are having to make hard decisions and in most cases painful compromises," remarked Josef Rabinovitz, CEO, JMR. "JMR's new SilverStor™ product line is a solution for all of these current problems. It can handle the needs of an independent film up to a large budget 3D motion picture."
In addition to JMR's successful BlueStor™ product line, the new SilverStor™ family of products will be on display in JMR's NAB Booth (SL8529). Through four different end-to-end workflow presentations, Edit, Share, Scale, Finish, JMR will demonstrate the power of SilverStor™ and its unique features that allow content creators to collapse the creative timeline and get maximum ROI on their hardware by utilizing a single JMR system and complete the tasks that would have previously necessitated multiple content creators and workstations.
Key features include:

Direct attached desktop storage solutions
SAS or PCIe connections for high throughput
Up to 54 TB of storage in a single unit
Up to 2K real time stereoscopic scalable up to 5K
100% RoHS Compliant
FCC Class (B) Licensed for Home or Industrial Use
CE Certified and Licensed for Use Worldwide
3 Year Limited Warranty on factory configured units
Equipped for use with a Kensington security device
Fully configured and ready to go
Pricing and Availability
JMR Electronics SilverStor™ product line will be released in 4, 8, 10 and 18 bay expandable units and will be available starting in Q2 2011. US MSRP starts at under $3000 for a 4 bay, 4 TB, SAS/SATA JBOD System with Controller, Drives and Cables. (This is based on draft pricing, waiting on confirmation from MG)For a complete set of features and technical specifications, contact sales@jmr.com or +1 818 993-4801.
About JMR Electronics, Inc.
JMR is a leading value provider of scalable storage systems for performance and capacity driven applications in the government, DCC, VOD, video surveillance and Web 2.0 markets. Headquartered in Chatsworth, California, JMR has been developing reliable, high performance RAID storage technologies since 1982. JMR's complete line of BlueStor™ PeSAN™ DAS, NAS, SAN and SilverStor™ solutions, manufactured entirely in the U.S.A., are ideal for nearly every IT and video production need. For further information please visit, http://www.jmr.com.
###