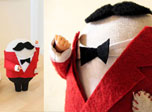 The international competition highlights projects that rethink how digital technologies can improve people's lives.
Milan, Italy—
October 30, 2012 (PRWEB) October 30, 2012 -- NABA students Viviane Yazdani and Andrea Segato received an award from Orange (Telecom France) in the "Functionality" category at a ceremony in Paris in September for their project "Gustav," a smartphone app-controlled porter that fosters connections between neighbors.
The students in the three-year BA in Design program designed the porter, an endearing plush doll controlled through a smartphone app, to allow neighbors to communicate and complete simple tasks like borrowing sugar or enlisting help for community projects. Gustav also allows residents to save time, money and resources—and, at the same time, build relationships in their communities.
The international competition highlights projects that rethink how digital technologies can improve people's lives. It was juried by prestigious design professionals, including Carlotta de Bevilacqua, an architect and designer, and Delphine Ernotte Cunci, the executive director of Orange France. Students from five art and design academies, École nationale supérieure des Arts Décoratifs, Institut Supérieur de Design, Nantes Atlantique Design School, Central Saint Martins College of Arts and Design, and NABA, the only school based in Italy, submitted projects.
Yazdani and Segato's project was coordinated by Luca Macrì; they were mentored by professor Michele Aquila and Vered Zaykovsky, the director of the three-year BA program in Design. The team was supported by Arian Brajkovic, product and interior designe and NABA teacher and Pierluigi Anselmi, teacher of video application at NABA and benefited from consultations with Alessandro Confalonieri, designer and NABA teacher.
The projects recognized at the award ceremony were presented to the public in an exhibition at Lieu du Design in Paris, from Septembre 28th to October 19th, 2012.
Other projects submitted to the competition by NABA students include:

"Bed in touch" by Gaia Bottari and Antonio Feroldi – a device bridging the distance between couples who are far away from one another by recreating the intimate link which unites them.
"Closely" by Patrizia Sciglitano and Giulia Tomasello, a printer and a handset designed for elderly people who feel alone
"It's me!" by Jlenia Coco an interactive doll for children able to decode their gestures and, if necessary, generating an alarm on parents' mobile
"Kokok" by Paola De Marini and Erika Suzuki to be placed on the tap above a sink to register and interpret the gestures of people.
"Logos" by Chiara Minotti and Giulia Soldati a service aimed at travellers, students and professionals able to create an identity based on musical preferences.
"Skin" by Giulia Carrieri and Lucia Cavalieri a tool to create contacts between different bodies within the house
"iGift" by Michele Bianconcini and Sara Ricciardi, accumulating energy produced during activities outside the home and transforms it into kWh
About NABA
Naba, Nuova Accademia di Belle Arti Milano, is an education Academy focusing on arts and design: it is the largest and most innovative private Academy in Italy, and the first one to have been recognized by the Italian Ministry of Education, University and Research (MIUR), back in 1980. As a recognized Academy, NABA offers academic diplomas equivalent to first and second level university degrees in the fields of design, fashion design, graphic design, multimedia, visual arts, and scenography. The Academy was founded in Milan in 1980 upon the private initiative of Ausonio Zappa, Guido Ballo and Gianni Colombo; its objective always was to challenge the rigid academic tradition and introduce visions and languages that are closer to contemporary artistic practices and to the system of arts and creative professions. In 2009 NABA joined the Laureate International Universities, an international network including over 60 accredited institutions offering first and second level university degrees to more than 740.000 students around the world.