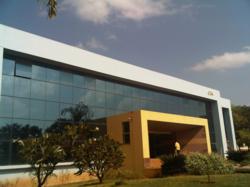 Innovation is key to sustainance of an organization. And a fresh perspective is mandatory for innovation.
Warrenville, IL (Vocus/PRWEB) February 28, 2011
NABROS, Inc.,a leading provider of breakthrough fixed-cost consulting services that make technology and business solution implementation simple, today announced the launch of their R&D center - NABROS LABS.
The R&D Center extends NABROS' ability to serve client needs on a 24/7 basis, invest in current and future technologies, and provide young engineering talent with an opportunity to innovate.
In partnership with the esteemed B.V. Bhoomaraddi (B.V.B.) College of Engineering and Technology in Hubli, Karnataka, India, NABROS LABS hopes to capture the innovation and imagination of young talent from B.V.B. to develop global products in Neural, Cloud and Mobile domains.
NABROS Founder and Practice Partner Abhi Rajmane said "NABROS LABS is our investment in the future and a belief in the promise of technology to transform lives and solve complex business problems over the next ten to twenty years.The goal of our research and development will be to provide simpler enterprise level solutions to our clients via innovative products and consulting services in these domains"
Prof B. L. Desai, Vice Principal of the B.V.B. College of Engineering and Technology, said the NABROS LABS and B.V.B. joint initiative is "a shining example of innovative collaboration between private industry and academia. The alliance with NABROS encourages our students to use their imagination to ultimately develop products in breakthrough technologies."
"Academia supports industry with young and imaginative talent, and industry in turn supports academia by providing subject-matter expertise, corporate guidance and visibility into emerging industry trends. It is a Win-Win alliance" said Vice Principal B.L.Desai.
Prof. Desai said Engineering students and the highly qualified B.V.B staff will participate actively in developing new technologies with NABROS.
About NABROS, Inc.
NABROS is the breakthrough pioneer and leading provider of fixed-cost consulting services that challenge the status quo and redefine the traditional consulting modus operandi. Utilizing their proprietary NABROS FX methodology NABROS makes business processes and technology simple for clients to implement and maintain.
NABROS practice areas include:ERP, EDI and Integration, Business optimization, Re-engineering, Turnkey web application development, Accounting/Auditing, Project Management and Computer Telephony Integration. NABROS provides implementation and support consulting services in the above domains.
Headquartered in west suburban Chicago, with offices in New York, Florida, Australia and India, NABROS has grown revenues at a rate 140 percent since its founding in 2002. NABROS cliental constitutes of Fortune 500 firms.
For more information on NABROS visit http://www.nabros.com or call 1-888-7-NABROS.
Follow NABROS success @Facebook and Twitter @nabros.
Media, Analyst Contact:
Jim Engineer
PR Consultant
Mobile: +1 630 728 1387
pr(at)nabros(dot)com
# # #