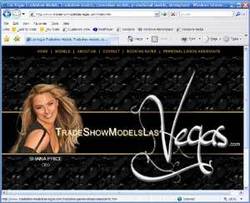 In this economy we decided to be pro-active instead of re-active
Las Vegas, NV (PRWEB) February 25, 2009
Over the past few months, Vegas Convention Services has met with over 200 Las Vegas models and exhibitor set-up crews to negotiate a 50% discount of their prices for all NAB exhibitors!
"In this economy we decided to be pro-active instead of re-active", stated Shana Price who is heading out the 'Discount Task Force' by organizing suppliers willing to slash their normal prices in half. "We are not interested in suppliers offering 30-40% discounts. We are insisting - and getting - plasmas for the exhibitor booths, high-quality furniture, event planners, and set-up crews for 50% less than our competitors."
Vegas Convention Services also has over 200 models who have all signed new contracts willing to work for $195 for the first day and discounted even lower for the second and third days. These are models who are used to getting $400 to $500 a day! In addition, a deal has also been made with a top exhibitor designer from NYC with a warehouse here in Vegas to cut prices 50% on all his tradeshow and convention services.
In fact, a top Las Vegas based tradeshow modeling company, Tradeshow Models of Las Vegas, has made deals with many of the local Vegas businesses and casinos, offering exhibitors the opportunity to be sponsored by a casino. More information can be found at their website at http://www.tradeshowmodelslasvegas.com.
Unbelievable times bring on unbelievable opportunities. At the recent WSA Convention, several exhibitors were interviewed and expressed elation with the discounted prices for the services Vegas Convention Services offered.
Said one tradeshow exhibitor: "This has been our best year in 8 years! We paid half price for our models and set-up, and with a slightly smaller competitor base, we secured the highest ROI ever. Actually, the tradeshow models worked harder than ever! When I received their price list, I compared it to what I was currently being charged. I sent instantly a 30-day advanced notice to the convention contractor as they have some fine print that would have locked me in to a price point almost double what I was being charged. Vegas Convention Services has some serious connections."
For more information on how to maximize your tradeshow experience, visit http://www.vegasconventionservices.com or contact Shari Sanderson of Vegas Convention Services at 702-287-4290 or by email at shari (at) vegasconventionservices (dot) com. Tremendous exhibitor discounts are available right now for those that act quickly.
###