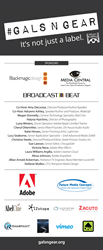 Women are front and center in our industry, and with #GalsNGear at NAB Show, we want to spotlight their achievements and encourage more gender balance across all fields of media-making
Washington, DC (PRWEB) April 11, 2016
The inaugural #GalsNGear pop-up event by Women in Film and Video (WIFV) of Washington, D.C. is set to spotlight gender balance in digital content production during the 2016 NAB Show, held April 16-21 at the Las Vegas Convention Center.
Livestreamed as part of "NAB Show LIVE" by Broadcast Beat Magazine for a worldwide audience at nabshow.com and broadcastbeat.com , #GalsNGear will include a one-hour live show on Tuesday, April 19, plus multiple interview and demonstration segments from the show floor during the world's largest multi-day conference and expo for professionals who create, manage and distribute entertainment across all platforms. Real-time online coverage by the Broadcast Beat team will be available via Facebook, Periscope, Twitter and also on the NAB Show YouTube Channel. #GalsNGear will showcase some of the media and film industry's leading female talent, including professionals on the leading edge of virtual reality, drones, sound engineering, cinematography and the latest in post-production software.
"Women are front and center in our industry, and with #GalsNGear at NAB Show, we want to spotlight their achievements and encourage more gender balance across all fields of media-making," said #GalsNGear creator and co-host Amy DeLouise, a producer who serves on the WIFV Advisory Board.
About #GalsNGear Live!
#GalsNGear Live! will take place 9 a.m.-10 a.m. on Tuesday April 19th in the state-of-the-art @NAB Show Studio 1 production facility in the Grand Lobby of the Las Vegas Convention Center. The show will be preceded by an 8:30 a.m. networking meetup hosted by Black Magic Design and Media Central. Giveaways will include: Free Adobe Video World Pass, Vimeo PRO Account, Black Magic Cinema Camera, BOOM! Cosmetics, iOgrapher iPhone Bundle, Rampant visual effects downloads and more. Participating companies include: Black Magic Design, Media Central, Broadcast Beat Magazine, Future Media Concepts, Abel Cine, Adobe, iZotope, iOgrapher, Light Iron, Ott House Audio, Rampant, Snell Advanced Media (SAM), Steele Pictures Studios, Vimeo, and Zacuto.
Participants at press time include: Co-Host: Amy DeLouise, Director/Author/Speaker; Co-Host: Adryenn Ashley, Speaker/Author and Producer, WakeUp!; Megan Donnelly, – Camera Technology Specialist, Abel Cine; Halyna Hutchins, Director of Photography; Luisa Winters, Drone Operator/ Adobe/Apple Certified Trainer; Cheryl Ottenritter, Senior Mixer/Founder, Ott House Audio Audio; Katie Hinson, Senior Finishing Artist, Light Iron; Lucy Seaborne, Senior Application Specialist – Snell Advanced Media (SAM); Christine Steele, Director/Editor, Steele Pictures Studios Inc.; Sue Lawson, Senior Editor, ChicagoEdit; Victoria Nece, Adobe After Effects; Laura Williams Argilla, Adobe Creative Cloud; Alissa Johnson, Adobe Anywhere; Jillian Arnold Ackerman, TV Engineer, Board Member Local 695, and Stefanie Mullen, CFO, Rampant Media Design.
About NAB Show
NAB Show, held April 16-21, 2016 in Las Vegas, is the world's largest electronic media show covering the creation, management and delivery of content across all platforms. With 103,000 attendees from 166 countries and 1,700+ exhibitors, NAB Show is the ultimate marketplace for digital media and entertainment. From creation to consumption, across multiple platforms and countless nationalities, NAB Show is home to the solutions that transcend traditional broadcasting and embrace content delivery to new screens in new ways. For complete details, visit http://www.nabshow.com.
About Women in Film and Video
Women in Film & Video (WIFV) is a 501(c)(3) non-profit community in the nation's capital dedicated to advancing the career development and achievement for professionals working in all areas of screen-based media and related disciplines. WIFV is an affiliate of Women in Film and Television International (WIFTI), a global network of nearly 40 locations representing more than 10,000 media professionals worldwide. More at http://www.wifv.org