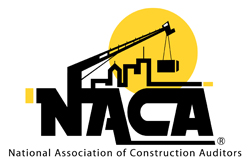 A unique line-up of sessions created from previous attendee and member recommendations...
Chesterfield, VA (PRWEB) May 29, 2012
Following the highly rated inaugural event in 2011, where the high quality of the presentations, the number of attendees, and their enthusiastic participation exceeded all expectations; the NACA is proud to announce the Preliminary Program for their 2012 Conference in Las Vegas on September 17-19, 2012.
The 2012 program of 18 NASBA-registered CPE's will include: General Sessions; Roundtable Discussions; and break-out tracks for Beginner & Experienced Construction Auditors, and construction industry participants.
The sessions that have been set include:
Establishing A Control Framework For Governance Of Construction Activities, Steven Sheinfeld - Rite Aid Corporation
Managing Construction Claims: What Do You Do When a Good Project Goes Bad, or A Bad Project Gets Worse?, J. Scott Alexander - Murphy Austin Adams Schoenfeld LLP
Applying Data Analytics to Efficiently Audit Vendors & Contractors, Paul D. Pettit, Jr. - Protiviti Inc.
Bankruptcy Topics For Contractors – With Particular Focus On Solvency Analyses, Neil Steinkamp, AVA, CCIFP, CCA - Stout Risius Ross, Inc.
Change Order Pricing and Related Analysis (Case Study), John L. Wisz - WiszCo, LLC.
How To Use ACL (Audit Command Language) To Analyze Data In The Construction Audit Process, Janet Beckmann - Brown Smith Wallace LLC
Integrated Product Delivery, John Sier - Kitch Drutchas Wagner Valitutti & Sherbrook
Auditor Involvement Before Signing The Contract, Craig Davis - Equity Residential
"How open is the book?" – Panel discussion with a Contractor, Lawyer, Owner and Construction Auditor, Jake Ortego – Commercial Cost Control, John Sier - Kitch, Colin Dagle - Marsh Risk Consulting, Jason Rio – Baystate Medical Center
How to Detect Construction Fraud, Bob Becker – Author
Additional sessions are expected to contain: Roundtable – Latest Hot Topics in Construction Auditing, Auditing Construction Project Insurance Components, Construction Auditing for the Beginner, Ethics, Roundtable - The Construction Manager's Role in Cost Control on Major Projects, The Importance of Construction Estimating And Bidding Due Diligence, Architect's Role in Construction Project, Government Contracting, Role of Owner's Rep in Managing Major Construction Projects; and will be led by industry/training leaders such as: John Croy - RSM McGladrey, Eric A. Kreuter - Marks Paneth & Shron LLP, Chad Maddox/Mason Brugh - Shelton & Company CPAs, P.C., Ron Risner - Risner Consulting, and Robert McDonald – McDonald & Associates.
Here's your opportunity to connect with professionals engaged in the construction industry…Owners, Internal Auditors, Construction Auditing Consultants & Trainers, CPAs, Owner's Reps., Project Managers, Engineers, Architects, Estimators, Accountants...Contact us!
Additional details To Follow! http://www.thenaca.org