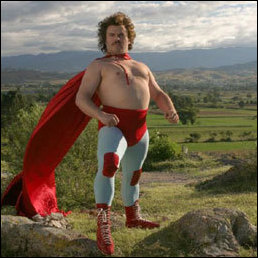 This movie represents something that Hollywood should do more of. It entertains. I love this movie
Ferndale, WA (PRWEB) June 27, 2006
PRWeb® CEO and Founder David McInnis has declared Tuesday, June 27 "Nacho Libre Day." To celebrate this special day, PRWeb employees will be attending a screening of "Nacho Libre." PRWeb's offices will be temporarily closed on the afternoon of June 27 between 3 and 6 p.m. as a result.
"This movie represents something that Hollywood should do more of. It entertains. I love this movie," says McInnis, an avid Jack Black fan. "To quote Nacho, 'It's Fantastic!'"
McInnis offered free tickets to the movie to all PRWeb employees, to their great surprise and delight. Paolo Mottola, PRWeb Editor/Comedic Ambassador, was the first to take McInnis up on the offer.
"I think this movie has the perfect formula," says Mottola. "'Napoleon Dynamite' was a stroke of genius, and Jack Black is one of the finest comedic actors of our time. He should have won an Oscar for 'Orange County.'"
About PRWeb International, Inc.
PRWeb, the Online Visibility Company™, is recognized as the Internet's leading online news and press release distribution service worldwide. Since 1997, PRWeb has been changing the way businesses, marketing departments and public relations firms think about press releases. While press releases were a tool once used exclusively for communicating with the media, PRWeb was the first company to develop a distribution strategy around direct-to-consumer communication. PRWeb was the first company to build and offer a search engine optimized platform for press release distribution. For more information, visit PRWeb's site at http://www.prweb-inc.com.
# # #