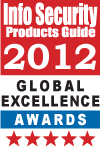 SMBs have become the #1 target of cyber criminals, so we've created out most innovative and easy to use NACwall appliance to protect these customers at a price point they can afford.
Bedford, MA and San Francisco, CA (PRWEB) March 01, 2012
NetClarity, the leading provider of next generation agent-less Network Access Control (NAC) solutions announced today that Info Security Products Guide, the industry's leading information security research and advisory guide, has named the new NACwall Nano, the world's smallest, most powerful NAC appliance as the winner of the 2012 Global Excellence Awards in the most innovative New Products category. These prestigious global awards recognize security and IT vendors with advanced, ground-breaking products and solutions that are helping set the bar higher for others in all areas of technologies.
While firewalls protect networks from the outside-in, most risk has shifted to the Inside-Out. In fact, over 80% of successful attacks happen behind firewalls and over 95% of cyber criminals and new malware all exploit Common Vulnerabilities and Exposures (see: http://nvd.nist.gov). The Next Generation NACwall Nano Appliances and Cloud Updates Service enables customers to harden their smallest, most remote networks from the inside-out, stopping new malware attacks, blocking rogue devices and malicious access, automatically and cost effectively. NACwall Nano appliances are priced starting under $1500 USD and now sold by PCMall as well as other top D&H reseller partners.
"We are honored that our new NACwall Nano appliances have received this prestigious award and recognition," says Hal Charnley, President/CEO, NetClarity, Inc. "According to the Wall Street Journal and PrivacyRights.org SMBs have become the #1 target of cyber criminals, so we've created our most innovative and easiest to use NACwall appliance to protect these customers at a price point they can afford."
"We're pleased to see NetClarity receive this award for solving the most serious internal security and 'bring your own device' (BYOD) risks that SMBs face in a cost effective way with these new NACwall Nano appliances, designed for the smaller to medium sized businesses and their most insecure remote offices," said Rake Narang, Editor-in-Chief, Info Security Products Guide.
The NACwall patented Inside-Out Network Security™ solution has received over a dozen awards including "Top Three Most Innovative Technologies" at the RSA Conference as well as "Most Innovative Network Access Control Solution", three years in a row from Info Security Products Guide, among many others.
About Info Security Products Guide Awards
Info Security Products Guide sponsors leading conferences and expos worldwide and plays a vital role in keeping end-users informed of the choices they can make when it comes to protecting their digital resources. It is written expressly for those who are adamant on staying informed of security threats and the preventive measure they can take. You will discover a wealth of information in this guide including tomorrow's technology today, best deployment scenarios, people and technologies shaping info security and market research that facilitate in making the most pertinent security decisions. The Info Security Products Guide Awards recognize and honor excellence in all areas of information security. To learn more, visit http://www.infosecurityproductsguide.com and stay secured.
About NetClarity, Inc.
NetClarity is privately-held and is the global leader in Next Generation Network Access Control (NAC) products and technology. Our passion to deliver the world's easiest-to use, fastest, most powerful, and cost effective NAC technology is what drives us forward - both through our partnerships and in our customer successes. NetClarity continues to grow through strong market demand for its innovative solutions. Our 4D® System - Detect, Deter, Defend, Defeat - is the most preemptive, proactive approach to Intrusion Defense in the entire industry and is the engine that drives our patented Inside-Out Network Security™ technology. With 12 patents filed, issued and pending, NetClarity's strong commitment to innovation is groundbreaking. For more information, visit us at http://www.netclarity.net. NetClarity, NACwall, NG NAC, 4D System, Inside-Out Network Security and the NetClarity logo are trademarks of NetClarity, Inc. CVE is a registered trademark of MITRE Corporation. All other marks are trademarks of their respective companies.
###