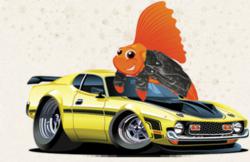 Regardless of income, level of fame, or lifestyle, we all need to make wise financial decisions in order to succeed.
Los Angeles, CA (PRWEB) May 02, 2012
RoadFish.com men's lifestyle and finance magazine today remarked on "Octomom" Nadya Suleman's filing for Chapter 7 bankruptcy in Orange County Superior Court on Monday. RoadFish.com weighed in on the mother of fourteen's sky-high debt, advising its readers to take a lesson from this unfortunate case and use it as an example of what not to do in terms of financially spending, saving, and planning.
Reuters reported on Monday that Nadya Suleman, commonly known as "Octomom" after her birth to octuplets in 2009, filed for Chapter 7 in the state of California. The article reports that Suleman possesses less than $50,000 in assets while court documents claim that she owes between $500,000 and $1 million. Chances are, her credit report isn't looking so hot either. Reuters also notes that last week, Suleman informed ABC News that she was receiving between $4,000 and $5,000 per month in public assistance.
A TMZ article gives more details as to Suleman's mounting debt, claiming that it had obtained a copy of her bankruptcy documents and that she owes between $500,000 to $1 million dollars to teachers, medical groups, her lawyer, and to DirecTV. TMZ reports that Suleman's creditors include Orkin Pest Control, Roberto Robles Gardening Services, Sparkletts, William F. Turner Attorney at Law, Kaiser Permanente, the DMV, Farmers Insurance Group, Verizon Wireless, City of La Habra Water Dept., So Cal Gas Company, So Cal Edison Company (electric), Sylvan Learning, Superior Court of California, Whittier Christian School and DirecTV.
RoadFish.com's Senior staff writer is quoted as saying, "I'm not going to weigh in on the rightness or wrongness of Suleman's decision to receive fertility treatments to have multiple children. I think that's beside the point, it's over and done with. What I would like to advise readers is to take this story and perhaps apply it to their own financial situations, to look and see where they can cut out spending, add to their savings, and chip away at debt. Regardless of income, level of fame, or lifestyle, we all need to make wise financial decisions in order to succeed."
36-year-old Nadya Suleman gave birth to her octuplets in January 2009. The set of eight babies, who are only the second complete set of octuplets to be born in the US, also surpassed the previous worldwide survival rate for a full set of octuplets when they were one week old. It was later discovered that Suleman, an unemployed, single mom who already had six other young children at the time, used in-vitro fertilization (IVF) plus the aid of a fertility specialist to manipulate the birth in order to have a high number of children. Once this became public information, Suleman came under fire and public criticism. Dr. Michael Kamrava, the supervising doctor during Suleman's IVF sessions, was later expelled from the American Society for Reproductive Medicine and his medical license was revoked in 2011 for his "extreme" departure of standard care by implanting Suleman with 12 embryos. In March 2012, Suleman posed topless for the British magazine, "Closer." Suleman now lives in La Habra, a suburban Southern California community, with her fourteen children.
RoadFish.com points out that even multi-millionaires can end up broke if they don't make smart spending and saving choices. RoadFish.com's Senior staff editor is quoted as saying, "Look at Warren Sapp, he played pro football for over 12 years and is in the Hall of Fame for being an amazing athlete. At one point he was making millions of dollars a year from the NFL, and he filed bankruptcy last month. That's my point, it's not about how much money you make, it's what you do with it that counts."
The above-mentioned TMZ article reports that Suleman's court documents state that she has taken and completed a course on debt education, an apparent requirement for any person who files Chapter 7 bankruptcy.
About RoadFish
RoadFish.com is an online men's lifestyle and finance magazine targeted toward men in their 30s and 40s that have already attained a moderate level of success in life, and are striving toward more. It goes over current events of interest to this group, such things as exciting adventures, making money, consumer interests, hot chicks, and the current US economy statistics as well as ways to make more and save more money. It is a publication owned by Purpose Inc.
###