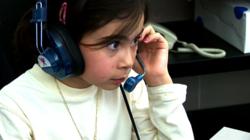 If students learn to read well in the early grades, they are prepared to succeed in the upper grades, where the focus shifts from learning to read towards reading to learn.
Provo, UT (Vocus/PRWEB) March 22, 2011
Reading proficiency continues to be a challenge for low-income students in the United States; in 2009, 83 percent of fourth graders from low-income families scored below proficient on the National Assessment of Educational Progress (NAEP) reading tests. In an effort to combat these low scores, many Title I schools have turned to Imagine Learning English, an educational language and literacy software program.
Green Valley Elementary School in Denver, Colorado, is a Title I school that saw noticeable gains after implementing Imagine Learning English. In 2009, school administrators identified third-grade student Seleny as a child who struggled to read at grade level—a problem that threatens the long-term academic success of many young students.
The U.S. has an estimated 6.6 million low-income children like Seleny, according to a recent study by the Annie E. Casey Foundation. The majority of these students won't achieve proficiency on the NAEP by the end of the third grade, making them less likely to graduate from high school on time, if at all.
Imagine Learning English is designed to ensure that struggling readers like Seleny master the reading and comprehension skills that state and federal tests identify as essential to proficiency. The language and literacy program assesses student progress and delivers a personalized curriculum that focuses instruction on the skills each student needs most.
After a few months of receiving personalized instruction from Imagine Learning English, Seleny started making significant gains in her reading. Her progress caught the attention of her principal, Andy Hoffer.
"Getting deeper and deeper into the Imagine Learning English program, she really made tremendous growth in just a couple months," said Hoffer. "The program has been helping her through the whole literacy acquisition process. It has been a tremendous experience to see her growth."
One year later, Seleny is now in fourth grade, and her instructors report that she is reading at grade level. Students who read at grade level are more likely to score above proficient on NAEP assessments and have continued success in the classroom.
"Becoming a fluent reader in the early grades is a crucial accomplishment for students," said Clydie Wakefield, executive director of curriculum development at Imagine Learning, the company that produces Imagine Learning English. "If students learn to read well in the early grades, they are prepared to succeed in the upper grades, where the focus shifts from learning to read towards reading to learn. Imagine Learning English is designed to build reading fluency, vocabulary and comprehension—all skills that students need to be successful."
Imagine Learning English offers the following features for struggling readers:

Explicit instruction in all five literacy areas: phonemic awareness, phonics, fluency, vocabulary, and comprehension
Engaging content: music, video, graphics and game-like settings
Adaptive curriculum
Ongoing assessments
Detailed reports
###