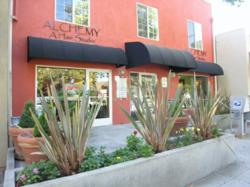 We offer a professional hair cleansing and styling products free from parabens or sulfates. Healthy shiny hair comes from clean well conditioned and rinsed hair, not artificial fillers such as in Pantene
San Jose, CA (PRWEB) October 12, 2011
Alchemy Hair Studio & Spa in San Jose is now offering through November 2011 a $10 hair cut service credit when guests bring a partially used drugstore shampoo or conditioner.
"We offer a professional hair cleansing and styling products free from parabens or sulfates. Healthy shiny hair cones from clean well conditioned and rinsed hair, not artificial fillers such as in Pantene," said Sherry McGuire, owner of Alchemy Hair Studio & Spa. "After consistent use of drug store products, immense buildup of cheap fillers dull and weigh down hair."
Alchemy Hair Studio's Beauty Designers offers the use of a professional clarifyer (stipper) to remove old product buildup that allowed the hair to collect chlorine and minerals from water.
"We "reset" the hairs pH level and deposit an appropriate conditioner to start our guests off fresh, and make complimentary home care prescriptions," Sherry added.
A complimentary clarifying shampoo and appropriate conditioner will be added to the service through November, when guests bring in their partially used drugstore shampoo or conditioner.
For more information on any other service provided by Alchemy Hair Studio & Salon, call (408) 329-9162 or visit http://www.alchemyhairstudio.com. They are located at 1047 Lincoln Avenue in San Jose, California.
About Alchemy Hair Studios & Spa
Alchemy Hair Studios & Spa is body spa, nail spa, and hair salon in San Jose. Opened in 1997, Alchemy has been regularly recognized as one of the best hair salons for hair coloring, haircuts, and hair straightening in San Jose. Alchemy Hair Studios and Spa has expanded rapidly with three locations open throughout San Jose. They offer services such as hair extensions and have a talented group of makeup artists on staff.
###