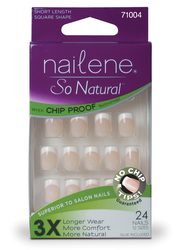 Your natural looking nails will have everyone fooled.
Lake Forest, CA (PRWEB) December 11, 2009
Who's got the money these days to buy a new pair of Jimmy Choo's? Plus, with cocktail parties and dance floors so crowded, holiday revelers will likely not look down and even see them anyway. This season's beauty tip is to focus 'their' attention and your hard-earned money where people are actually going to see it: we all express ourselves with our hands... let them make a personal fashion statement.
Artificial nails, like false lashes, are a quick yet temporary fix. Now it's easy to nail the perfect holiday look with new and improved Nailene® So Natural™. New, improved, and better than ever Nailene® So Natural™ nails are engineered with chip-proof technology for 3X longer wear, more comfort, and a more natural look than salon nails. Nailene® So Natural™, with a superior to salon quality look at half the price, is a safe alternative to other nail applications — and is a great way to break a nail biting habit. So Natural™ features a pliable base that uniquely molds to the nail bed and cuticle base for optimal comfort, while retaining an acrylic-like hardness at the tip to prevent chipping. Totally chip –proof so there will be no more chipped tips and consumers can get up to 10 days of worry-free wear. According to Nailene Marketing Director Tricia Buenvenida, "These natural looking nails will have everyone fooled."
Nailene® So Natural™ retails for $5.99 and is available at mass merchandiser, drug chains and discount stores nationwide. http://www.nailene.com
For further information on Nailene® So Natural™ & Reader Giveaways, please contact Tricia Buenvenida, Marketing Director, at Pacific World Corporation.
# # #