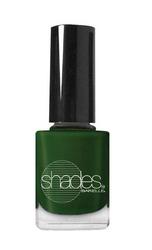 New York, NY (PRWEB) February 2, 2009
From hand-holding, to a romantic foot massage, to nail-nourishing treatments and polish formulas that love your nails, this Valentine's Day, Barielle is your perfect match.
The Color of Love: He'll be sure to notice you with a rainbow of date-themed nail polishes that also color your nails with love-Shades by Barielle. nail polish formulas are free of Toluene, Formaldehyde and Dibutyl Phthalate (DBP). MSRP: $8.00 each
Strip-Tease: Bare your natural nails without stripping the nail plates, with Barielle's Love Your Nails Nail Polish Remover Towelettes, created to lovingly take off polish with its exclusive alcohol-free and acetone-free formula. MSRP: $10.00
Play Footsie: There's nothing more romantic than a foot massage-try Barielle's award-winning Total Foot Care Cream, a luxurious conditioning cream that leaves feet silky smooth. MSRP: $19.50
All Barielle products are available at: http://www.barielle.com.
###