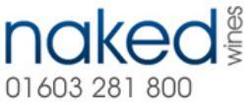 (PRWEB) December 1, 2009
Online farmer's market for wine Naked Wines and their team of 68 winemakers, have issued an official thank you to their 52,340 customers to mark their first birthday this week.
"What a year!" expressed Rowan Gormley, Founder of Naked Wines. "To think that just over a year ago today, we had no website, no customers – just ideas down on paper - to over 52,000 buying customers 12 months later, and a buzzing online community to match, is quite incredible."
"And the best part of it? The 39,067 loyal Naked customers who have pledged to support our winemakers, helping a large number of them set up shop and make a name for themselves in the UK.
"Customers had obviously never heard of us, had never heard of our winemakers, but they were prepared to give us a go, try the wines, and be a part of something new. So thank you to all of you!"
"Winemaking duo Constanza Schwaderer and Felipe Garcia, two of our newest Naked recurits who have just set up alone, are the latest to receive support from a strong Naked following, with customers pledging to buy over 9,000 bottles of their first solo vintage in the space of an afternoon. So as you can see, the support really is phenomonal."
As well as thanking all our customers, we have several other thank yous:
Thank you to Europa for helping us store, pick and pack all of our wines
Thank you to ParcelForce for providing such an efficient, next day delivery service
Thank you to our cardboard supplier Thompson Packaging for producing fantastically sturdy boxes to protect the wines from knocks and bashes
And thank you to all our business partners for giving us a go and working with us when we were nobody!"
To find out more about Naked Wines, their wines and winemakers, and to get involved in their online wine community and wine club, visit http://www.nakedwines.com
###