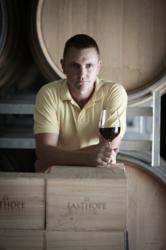 "It is an incredibly exciting time for us," concludes Gormley, "And with the new team in place, we're ready to push our business model even further."
London, UK (PRWEB UK) 17 August 2012
Online wine retailer Naked Wines has recruited a dedicated team of wine professionals to oversee its global winemaker investments, which have reached £25million a year through Angel funding.
It has appointed:

Dominic Hentall, formerly of HwCg Ltd, as Worldwide Technical Director and Roaming Winemaker
Robin Langton, formerly of Patz and Hall, as Director of Winemaking in the US, to oversee US investments and make wines himself.
Eamon Fitzgerald, formerly of Accenture and Decanter, as UK Chief Operating Officer, also overseeing worldwide commercials and operations
And Rod Easthope, formerly of Craggy Range, will be scouting out winemaking talent in Australia and New Zealand
Rowan Gormley, Founder and CEO of Naked Wines, explains:
"With over 100,000 Angels investing over £2million a month, we've got the financial fire-power to back some big, exciting projects, from some of the industry's most talented winemakers – and Robin, Dominic , Rod and Eamon are the perfect team to drive these projects forward and make sure our Angels are getting the best juice for their buck. Between them, they've got years of experience in the industry, and we're extremely lucky to have them on board."
The creation of the new team follows Naked Wines' recent expansion into the US and Australia, where it has opened two new retail platforms and a winery in Sonoma, California, offering customer crush for $100 / £65 per ton to experienced, independent winemakers.
"It is an incredibly exciting time for us," concludes Gormley, "And with the new team in place, we're ready to push our business model even further."
NOTES ON NAKED WINES
What we're all about
Naked Wines, the UK's fastest growing online wine retailer, was born in December 2008 when twelve friends jacked in their jobs during the depth of the recession to do things a little differently.
Our goal: Find the world's most talented, undiscovered winemakers and set them up in business.
How we go about it:

100,000 customers invest over £2m a month towards future orders (we call them 'Angels')
Which we use to fund independent winemakers
In return for exclusive wines at preferential prices
Which we pass back to our customers
We call it the 'virtuous circle', as everybody gets more for less, without trampling on anyone along the way.
The hard and fast facts
If you're looking for something a little meatier, this should help:
We've invested in 40 independent winemakers to date
We ship an average of 10,000 bottles of wine every day
We've seen over 100% growth year-on-year, with sales of £23.5 million in 2011
We've recruited 250k customers, 100k of which invest over £2m a month towards future orders
We were named the UK's most innovative wine company for two years on the trot, at the IWC
We were named the UK's Online Business of the Year at the 2011 National Business Awards
We're probably the world's largest group of net wine investors
And we recently launched two new retail platforms in the USA and Australia, as well as a new winery in California, offering independent winemakers custom crush for $100 / £65 a ton
A truly social business
As well as the model itself, the website delivers a truly social experience.
Customers can chat directly to one another and to the winemakers.
Customers can vote with their feet on new initiatives and wines, to decide what makes the cut.
And we tell customers what to buy AND what not to buy, based on their preferences.
The team
The man at the top is Rowan Gormley, former Virgin Wines and Virgin Money CEO, our COO is Irishman Eamon Fitzgerald, formerly of Accenture and Decanter, and our non-executive director who keeps us in check is Ian West, former BSkyB MD. The rest of us are an assorted bunch of 60 wine and tech-loving employees based in Norwich.