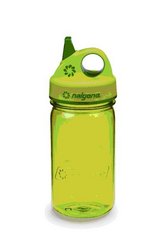 Rochester, NY (Vocus) September 4, 2009
BPA-free sippy cups and kids bottles have become a hot commodity, and with recent reports stating that the liners of aluminum bottles contain BPA, parents are once again searching for safe alternatives.
Nalgene offers parents two choices in BPA-free kids bottles, the Grip'nGulp and the MiniGrip designed for toddlers and juniors. The popular line include two BPA-free plastic materials to choose from, Eastman Tritan Co-polyester and HDPE. For more information on product materials and information, visit http://www.nalgenechoice.com
Key features of Nalgene's BPA-free kids bottles:

BPA-free material - new line is marked with BPA-free branding on the bottom of each bottle; making it easy for parents to determine that it doesn't contain BPA
Affordable and Long-lasting - Each bottle retails at $ and when your toddler outgrows the sippy-cup style bottle, simply replace it with a new Nalgene, leak-proof lid, transforming it into a big-kid water bottle (link to http://www.nalgene-outdoor.com accessories page)
Bottles are available in green, purple, blue and pink
Microwave and dishwasher safe
Indented profile - provides comfortable grip without looking like a "baby" cup or bottle
Durable - survives temper tantrum outbursts, trips back and forth in the backpack and even throws from a moving vehicle
Odorproof - even two-week old milk found in bottles under the couch or in the lunchbox will go undetected after washing
Spillproof - a highly engineered "sipper" valve that's secure enough to prevent leaks even when the cup is used as a Frisbee
About NALGENE Outdoor
Nalgene Outdoor Products is based in Rochester, New York. Founded in 1949 as a manufacturer of the first plastic pipette holder, the company soon expanded its product line to include state-of-the-art polyethylene labware under the NALGENE brand. By the 1970s, outdoor enthusiasts had discovered the taste and odor-resistant, leakproof and rugged properties of NALGENE's large selection of plastic containers. In response to this emerging demand, the NALGENE Consumer Products Division was formed. For more information, contact NALGENE Consumer Products or visit our website at http://www.nalgene-outdoor.com.
Media Contact:
Libba Cox
617-248-0680 ext. 12
lcox (at) cerconebrown (dot) com
###