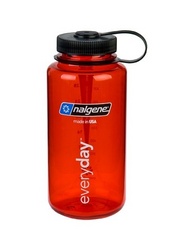 Rochester, NY (Vocus) January 21, 2010
Nalgene, the leading BPA-Free reusable bottle company, has offered the largest line of BPA-Free products for nearly two years. Today, the company marks all products with an official Nalgene BPA-Free sticker and stamp on the bottom of each product. In an effort to help consumers understand how to tell if their products are BPA-Free and what the number #7 recycling code represents here are some helpful tips to look for when buying a new bottle or container:
1. Look for products with BPA-Free stickers and permanent BPA-Free markings on the bottle/container itself. You can be sure your bottle and/or container is BPA-Free if it has an official, company endorsed BPA-Free stamp or sticker. If a bottle or container does not say BPA-Free by the manufacturer, there's no guarantee it is.
2. Don't assume all #7 plastics contain BPA. The #7 recycling label is a catchall indicator for plastics made with a resin other than those in the #1 to #6 designations, or made of more than one resin. The #7 category not only includes polycarbonate, but also includes compostable plastics made of organic material and other types of plastic that do not necessarily contain BPA (Bisphenol-A).
For example, Nalgene's new Everyday™ line manufactured with Eastman's Tritan™ copolyester is a #7, but does not include BPA.
3. Do your research. To know what your plastic bottle or container is made of, always look for the #1- #7 recycling code. You can look up what types of plastics fall under each code by visiting the following link:http://www.americanchemistry.com/s_plastics/bin.asp?CID=1102&DID=4645&DOC=FILE.PDF.
4. Remember, there are many advantages to using #7 plastic products. For instance, some plastics are not recommended for microwave use however, #7 plastics can be used in the microwave, are dishwasher safe and are one of the most durable and are extremely versatile plastics. Therefore, they are an ideal choice for your reusable container needs. For more information about Nalgene's #7 BPA-Free plastic, visit http://www. http://www.nalgenechoice.com/comparison_chart.html
Nalgene-Outdoor
Nalgene is the industry leader in BPA-free, leak-proof, reusable hydration containers, and today offers the largest and most diverse selection of BPA-free reusable containers, including stainless steel. Through its eco-minded campaigns including FilterForGood, Refill not Landfill, and America's Least Wasteful Cities and its commitment to producing leak-proof and durable products; Nalgene aims to inspire a less wasteful way of life. Nalgene's products adhere to strict FDA and ISO manufacturing processes that go above and beyond other reusable container companies' manufacturing standards. For more information, contact Nalgene Consumer Products or visit our website at http://www.nalgene-outdoor.com.
Media Contact:
Caroline Budney
617-248-0680 ext. 15
CBudney(at)CerconeBrown(dot)com
###