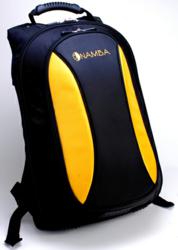 Our bags are designed to answer personal pet peeves as musicians about other bags we've owned in the past.
West Linn, Oregon (PRWEB) September 30, 2011
Portland, Oregon based Namba Gear announces another offering of high performance laptop bags, backpacks and accessories for musicians and dj's. The Big Namba Studio Backpack features a security design that can hold up to a 17'' laptop computer along with most 2-octave MIDI controller keyboards or computer dj controllers. The company uses the highest grade 1680D/poly nylon material for the exterior of their products and includes lockable zippers to secure the contents. The bag is also equipped with cable-ties as part of an integrated cable management system and contains a secret stash pocket.
The backpacks are visually distinctive for their lack of exterior pockets. The bags have two large lockable compartments with all of the pockets inside the compartments to provide better security for their contents. As one high profile DJ noted, "As soon as you see this bag you know, this ain't no hiking bag."
"Frankly, our bags are designed to answer personal pet peeves as musicians about other bags we've owned in the past," said Namba Gear owner, Woody Moran. "Convenient access to pull your laptop for airport security, no metal zipper pulls that jingle when you walk and scratch your gear, a cable management system, bright contrasting interiors for easier backstage visibility. It's a lot of little things that wind up making a huge difference."
Other features of the Big Namba Studio Backpack include: holds 12'' vinyl and audio devices; convenient carry handle; extra thick padding; extra wide shoulder straps with integrated phone pocket. The Big Namba backpack is available in five musician-friendly colors: mayan brown, charcoal grey, olive green, midnight blue, and killer bee black.
Namba Gear has also partnered with Broadjam.com and offers a free one year membership to the musician's online community, along with other valuable offers, upon online product registration.
Namba Gear products are available via musical instrument & dj retailers, Amazon.com, Best Buy online, as well as through Namba Gear's online webstore.
About Namba Gear:
Namba Gear is a Portland, Oregon based bag and accessories company that designs and produces premium, high performance transport solutions for the working musician. The essence of the brand is defined by the working musicians and dj's at Namba Gear who are dedicated to creating and delivering exceptional carrying solutions that will stand up to the unique and rigorous workload of professional musicians.
###