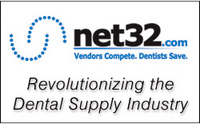 Cary, NC (PRWEB) September 27, 2007
Net32 announced today the release of technology that makes it easy for vendors to link and compare their products to other name brand products resulting in new sales opportunities for them and new savings opportunities for dentists shopping at Net32. Just like customers in a local drug store can compare generic products with popular name brand products, Net32 now links manufacturers' products that are considered comparable by vendors.
Dr. Pat Cassidy, CEO of Net32, stated, "Net32 pioneered the creation of a single website where dentists can shop across multiple vendors simultaneously and with one click place an order for all vendors, streamlining dental product ordering and saving thousands of dentists millions of dollars. This unique process is dependent on our patented technologies which allow dentists to choose a product for purchase from a grid of multiple vendors selling that single product at various pricing levels.
It is in perfect harmony with the growth and expansion of our open and neutral marketplace to move forward with a new feature that enables manufacturer level product comparison, and to empower our participating vendors to drive the process. What this means to dentists who purchase their dental supplies at Net32 is that not only will they continue to benefit from the ability to compare pricing across multiple vendors for a single unique product, they will also be able to link from that product to other products that are similar, giving them access to a whole new world of possible savings."
Net32 believes that introducing vendor driven ability to compare similar products will help drive the company forward in its quest to revolutionize dental product procurement in the United States. See this new feature at Net32.
About Net32, Inc.:
Net32, Inc., is a pioneer in developing innovative technologies that form the backbone of totally integrated business to business online comparison shopping marketplaces. Net32's flagship single point comparison marketplace is found at Net32.
For more information, contact:
Dr. Pat Cassidy, CEO
Net32, Inc.,
250 Towne Village Drive,
Cary, NC 27513
Phone: 800-517-1997
http://www.net32.com
###