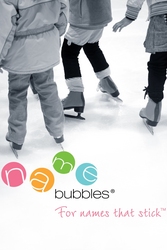 Get a bunch of kids – or even adults – together for winter sports, and there's bound to be some confusion over which equipment or clothing belongs to whom
Saratoga Springs, NY (Vocus) December 9, 2009
Name Bubbles new personalized waterproof press-and-stick labels for kids and adults make it easy for people to immediately recognize and identify their expensive winter sports equipment, winter coats, gloves and other cold-weather clothing. When it's time for hockey practice or a trip to the ski slopes, Name Bubbles durable laminated vinyl labels stay firmly affixed to the most important winter items, even through the most intense winter-sports experiences. They also stay stuck through trips through the washing machine, clothes dryer, microwave, and dishwasher; and they're extremely easy to customize and purchase online from NameBubbles.com.
"Get a bunch of kids – or even adults – together for winter sports, and there's bound to be some confusion over which equipment or clothing belongs to whom," said Michelle Brandriss, CEO-mom and founder of Name Bubbles. "With Name Bubbles you'll always know who belongs to which set of ski poles, hockey sticks or figure skates. If items do get left behind, Name Bubbles' larger property labels can be printed with your contact information, which improves your chances of recovering lost items later."
The Name Bubbles Sports Label Pack ($24.58) includes 86 customizable labels in the following types and sizes:

16 dishwasher-safe Square Bubbles – Great for pricey sports equipment, because this label offers extra room for information, like a phone number and email address.
8 dishwasher-safe Fun Bubbles – These waterproof labels are available in a variety of styles, and they work on a variety of items, from sleds, snow boots and other outdoor gear, to small thermoses that can be placed in the dishwasher.
18 dishwasher-safe Mini Bubbles – These mini labels, designed for the smallest items, also have the pressure adhesive designed stick in extreme conditions – from minus-60 degrees to 220 degrees Fahrenheit – so there's no worry about putting them through the dishwasher or leaving them out in the snow.
28 laundry-safe Bitty Bubbles – Specially designed tiny labels that fit on clothing tags (and mittens, too), which avoids the iron-on or sew-on routine.
8 pairs of laundry-safe Bubble Toes – Not only do Bubble Toes keep each family member's footwear identified, but they're a fun way to remind kinds which shoe is left and which is right.
Created for busy families for the holidays – by a busy mom
Prior to founding Name Bubbles, Brandriss home-tested property labels from several companies, but she quickly became frustrated with their limited options for styles, colors, and personalization. There were so few colors and designs available that mix ups still occurred. At a local coffee shop in Upstate New York last year, Brandriss took the reins and conceived and designed her first series of Name Bubbles. Since then, the company has grown to offer an entire line of durable label products to families all over the world.
About Name Bubbles
Name Bubbles are fun and functional waterproof press-and-stick name labels designed to help busy families keep track of toys, clothing, hand-held electronics, baby bottles, school uniforms, sports equipment, and much more. Name Bubbles waterproof labels are safe for the dishwasher, laundry, and microwave. Custom label packs are available for camp labels, school labels, and daycare labels. They can all be personalized and purchased right on the Name Bubbles web site at http://www.NameBubbles.com.
Press Contacts:
Lee Graham
lee(at)leegraham(dot)biz
212-333-4983
Michelle Brandriss
mbrandriss(at)namebubbles(dot)com
(518) 669-7046
###