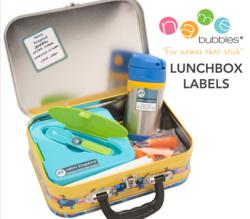 We love that adults can apply the label directly to their child's school supplies or lunchbox and then add a personal handwritten note for them to read, such as 'Good luck on your test!'
Clifton Park, NY (PRWEB) August 07, 2012
Name Bubbles, the award winning personalized name label manufacturer and e-commerce website, announced today new Lunchbox Labels for back-to-school. The new message labels allow parents to send important reminders or notes and can be designed to match the child's School Label Pack.
Whether a child is headed to school for the first time or is an old pro, Name Bubbles Lunchbox Labels help parents stay in touch with reminders and provide a little added encouragement from home. Parents can write anything from to-do lists and confidence-building notes to a simple drawing to brighten up a child's school day.
"They're great for families looking to re-use products and stay organized with the hustle and bustle of getting kids prepared for school. We love that adults can apply the label directly to their child's school supplies or lunchbox and then add a personal handwritten note for them to read, such as 'Good luck on your test!' or 'I have a secret surprise for dinner tonight!' These labels provide an opportunity for a message or a little encouragement in a child's busy day; kids will love seeing a quick doodle, a smiley face or a kiss and hug mark from Mom or Dad", says Michelle Brandriss, CEO and founder of Name Bubbles.
Name Bubbles personalized press-and-stick Lunchbox Labels are durable, dishwasher safe and adhere directly to lunch boxes, bento boxes, sandwich containers, eco-snack bags, notebooks and folders. Parents can then write daily reminders, quotes and love notes without the added step of peeling off and replacing labels just to write a new message or reminder. No wasted paper or time, with Lunchbox Labels, the message possibilities are as limitless as the user's imagination.
Like all Name Bubbles products, Lunchbox Labels offer a variety of designs and colors to choose from. Each order comes with two versatile writing tools ; a semi-permanent, no-smudge ink pen that can be removed easily with alcohol and a cotton ball and a versatile hydro marker that can be removed simply with a cloth and water. Simple to use, each message can be wiped away at the end of the day. To keep the labels 100% clear and clean for the entire school year, simply remove each message before placing the label in the microwave or dishwasher.
Lunchbox Labels can be purchased online at NameBubbles.com for $21.88 and includes 12 dishwasher safe labels, one semi-permanent, no-smudge ink pen and one versatile hydro marker. Name Bubbles' coordinated designer color palettes and graphics make creating stylish labels to match school supplies a breeze.
About Name Bubbles
Winner of the prestigious iParenting Award for Outstanding Products, Name Bubbles are fun and functional waterproof press-and-stick name labels designed to help busy families keep track of toys, clothing, hand-held electronics, baby bottles, school uniforms, sports equipment, lunch boxes, and much more. Name Bubbles waterproof labels are safe for the dishwasher, laundry, and microwave. Custom packs are available for camp labels, school labels, daycare labels, and write on message labels - the sticker label you customize again and again. They can all be personalized and purchased directly on the Name Bubbles website at http://www.NameBubbles.com.
# # #