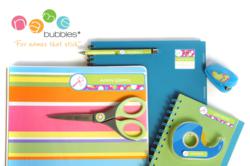 Name Bubbles School Pack is a perfect mix of labels for school and after school activities. Their School Labels offer an easy press-and-stick application with a variety of designs and colors to choose from.
Clifton Park, NY (PRWEB) June 27, 2012
Name Bubbles, the award winning personalized name label manufacturer and e-commerce Web site, today announced the return of their popular School Labels and introduction of Lunch Box Labels in time for the busy back-to-school season.
While families everywhere are enjoying all that summertime has to offer, the team at Name Bubbles is gearing up to make this year's Back-to-School season a breeze for busy parents!
Name Bubbles press-and-stick labels are durable, waterproof and make back-to-school worry free; simply place them on everything heading to school: backpacks, lunch boxes, sports gear and uniforms, water bottles and art smocks, and rest easy knowing expensive school supplies and gear won't end up in the lost-and-found bin. Each label is crafted with quality and style that children will love, and a durability that moms can trust.
Name Bubbles School Pack is a perfect mix of labels for school and after school activities. Their School Labels offer an easy press-and-stick application with a variety of designs and colors to choose from.
With 88 dishwasher, laundry, and microwave safe, personalized labels for $33.88, a child's personalized bubbles are a practical and fun way to make their mark.

8 Square Bubbles – perfect for big ticket items, such as an iPod or gaming system, that might need a phone number and e-mail to be returned
16 Fun Bubbles – great for water bottles, bento boxes, and pencil cases
18 Mini Bubbles – skinny waterproof labels for pencils and pens, staplers and tape dispensers
2 Super Bubbles – extra large labels for sports and after-school gear
28 Bitty Bubbles OR 25 Bubble Itz (laundry labels differ by style chosen) press-and-stick kids clothing labels, the perfect solution for quick and easy labeling that stays put
16 Pairs of Bubble Toes – our popular shoe labels are laminated for extra durability but can be used on any personal item heading out the door
New for the 2012 back-to-school season are Lunch Box Labels – the message label that can be used again and again. Like all Name Bubbles products, Write On! Labels are durable and waterproof, saving busy parents time and money. "They're great for families looking to re-use products and stay organized with the hustle and bustle of getting kids prepared for school each day. A feature we love is that adults can apply the label directly to a child's lunchbox and then add a personal handwritten note for them to read each day, such as 'Good luck on your test!' or 'I have a secret surprise for dinner tonight!' These labels can also provide a little encouragement in a child's day; kids will love seeing a quick doodle, a smiley face or a kiss and hug mark from Mom or Dad," says Michelle Brandriss, CEO and founder of Name Bubbles. Lunch Box Labels can be purchased online at NameBubbles.com for $21.88 and includes 12 dishwasher safe labels and two versatile writing tools.
Additionally, as a part of their ongoing Giving Program and commitment to giving back, Name Bubbles made an initial $10,000 commitment to Reading Is Fundamental (RIF) for 2012. In honor of RIF and to help raise awareness for the organization, the Company created a sheet of eight (8) personalized learning-themed labels for young children and teachers, available through 2012 for an additional $3 with every Name Bubbles label order - perfect for back-to-school.
About Name Bubbles
Winner of the prestigious iParenting Award for Outstanding Products, Name Bubbles are fun and functional waterproof press-and-stick name labels designed to help busy families keep track of toys, clothing, hand-held electronics, baby bottles, school uniforms, sports equipment, lunch boxes, and much more. Name Bubbles waterproof labels are safe for the dishwasher, laundry, and microwave. Custom packs are available for camp labels, school labels, daycare labels, and write on message labels - the sticker label you customize again and again. They can all be personalized and purchased directly on the Name Bubbles website at NameBubbles.com.
About Reading Is Fundamental, Inc. (RIF)
Reading Is Fundamental, Inc. (RIF), founded in 1966, motivates children to read by working with them, their parents, and community members to make reading a fun and beneficial part of everyday life. RIF's highest priority is reaching underserved children from birth to age 8. Through community volunteers in every state and U.S. territory, RIF provided 4 million children with 15 million new, free books and literacy resources last year. For more information and to access reading resources, visit RIF's website at rif.org.