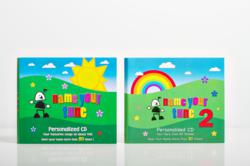 "Whether it's the short drive to the grocery store, the 40 minute drive to the zoo, beach or theme park or the often dreaded long haul to your vacation destination, 'Name Your Tune CDs' will help get you there."
San Diego, CA (PRWEB) May 17, 2011
With families preparing for road trips this summer travel season, they'll be looking to make their time in the car more fun (and dare we suggest, more bearable). Name Your Tune personalized CDs for kids offer a fun, easy and creative way to keeps kids entertained. Instead of questions from the backseat like "are we there yet?", they're going to be asking "can I hear my songs again?" Name Your Tune even offers having multiple names on one cd, so that the kids don't have to argue about which cd to play; one cd can entertain all of the siblings. Celeb parents have already attested to the fun they're having in the car with their Name Your Tune CDs. (Click HERE to read celebrity testimonials).
Name Your Tune's founder Candace Alper said, "Whether it's the short drive to the grocery store, the 40 minute drive to the zoo, beach or theme park or the often dreaded long haul to your vacation destination, 'Name Your Tune CDs' will help get you there."
Name Your Tune is a fun and fresh music compilation with two volumes that are made-to-order and personalized for each child. The child's name is sung more than 80 times and is the feature part of every song, making each song an instant sing-along, feel-good hit. The tunes are familiar and much-loved classics that the entire family can enjoy together during this summer travel season! Everyone can sing along with the songs that are old and new all at the same time - classics like "Old MacDonald Had A Farm E-I-E-I-O" become "Little Hannah Had A Farm E-I-E-I-O."  Volume 2 includes Five Little Monkeys, Skinamarink, Mr. Sun and the ABCs. Available at NameYourTune.com, people have the option to purchase 1 cd for $20, or 2 cds for $36.
About Name Your Tune Inc.:
NAME YOUR TUNE Volume 2 was released in November 2010 and between Volume 1 and Volume 2, there are more than 7000 names in these catalogues. It is one of the most popular children's releases of a generation, winning broad appeal among preschoolers, parents, adults and grandparents. The award-winning CD is created by Executive Producer Candace Alper, an Ernst and Young Entrepreneur of the Year nominee, and a Top 3 Mompreneur of the Year. Name Your Tune's Most Popular Names of the Year and Decade story was cited the world over by CNN, Jimmy Fallon, Yahoo.com, National Post, AP, CP and hundreds of websites in December, 2009.
Please visit http://www.nameyourtune.com/mediaroom for more information, as well as downloadable full sample cds and images.
###