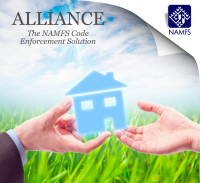 I have heard good things from other Officers about your service and hope that we can work together to help resolve these community issues."
~ WACE Officer and Code Enforcement Officer, City of Kirkland
Stow, Ohio (PRWEB) June 21, 2011
The National Association of Mortgage Field Services (NAMFS), the premier trade association for the mortgage field service industry, announces updates to ALLIANCE – The NAMFS Code Enforcement Solution.
This free web-based tool, located at http://www.namfs.org, facilitates and streamlines communication and collaboration between local code enforcement officials and the top national field services providers for the mortgage servicing industry. Code enforcement officials register and input property-specific information, including the code-related issues, comments and potential fines if not addressed. NAMFS' participating members then receive this information in real time and agree to (a) review those violations and initiate contact with the appropriate code enforcement officer, or (b) indicate they do not service the property.
NAMFS has under taken the task of improving communication between these entities through ALLIANCE, a solution that provides more data and a better information exchange.
The Association is pleased to report that since its initial release in May 2011, ALLIANCE is serving over 400 code enforcement officials representing over 220 distinct municipalities and counties nationwide which have been impacted by the housing crisis. Feedback since the release has been largely positive with users finding the real-time capabilities of the system a significant asset in the campaign to diminish unnecessary property violations and neighborhood blight:
"I listed on NAMFS.org a violation requesting immediate contact. I love the website, it really helps me with my job!" ~Code Enforcement, City of Marco Island
"Believe it or not (I didn't) I have some properties that have come into compliance." ~Code Enforcement Officer, City of Largo
The responses and suggestions received during the initial stages of the roll out of this program have enabled the Association to make some improvements to better serve the users of this system. The enhancements include:
List of participating national field service companies
Review counter to identify status of participant feedback
Ability to move a property to a resolved status
As a result, the system now offers the ability to manage and review property issues further streamlining the communication process.
NAMFS has continued outreach to the code enforcement community through participation in conferences, industry communications, webinars and newsletters. Webinars have also been hosted with several mortgage servicers to gauge both their interest and needs for the program. Response to these sessions has been overwhelmingly positive. To begin using this valuable service or to obtain additional information regarding ALLIANCE, please contact Eric Miller, Executive Director, at 888-292-6831 or eric(dot)miller(at)namfs(dot)org.
About NAMFS
The National Association of Mortgage Field Services, Inc. (NAMFS) is the premier trade association for the mortgage field service industry. We are dedicated to working with all entities of the industry from the Government Agencies and investors that set policy to the contractors and inspectors that perform the work. For more information visit http://www.namfs.org.
# # #