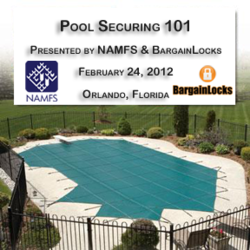 One of our guiding principles is to sponsor educational programs. This generation of pool covers is an improvement in both safety and aesthetics. Join us to become more knowledgeable regarding this cutting edge solution.
~ Eric S. Miller, NAMFS
Stow, Ohio (PRWEB) January 30, 2012
The National Association of Mortgage Field Services (NAMFS), the premier trade association for the mortgage field service industry, announces the presentation of Pool Securing 101 on February 24, 2012 in Orlando, Florida.
As the oldest and largest trade association in the mortgage field services industry, NAMFS is committed to providing educational resources designed to improve the servicing of vacant properties. This most recent program regarding the securing of pools with safety covers offers its attendees the opportunity to learn more about these products. Two sessions will be offered. The first, tailored to contractors, will provide hands on experience and a certification opportunity related to the measurement and installation of these covers. The second, specifically for servicers, will focus on an overview of expectations and benefits associated with their use.
BargainLocks, as an Associate member of NAMFS, has partnered with the Association to assist in the presentation of this valuable training and certification opportunity. Membership to NAMFS is not required to attend these sessions; however, members will be offered a discounted fee for the certification exam.
NAMFS regularly researches products that may provide a beneficial impact to the industry. These covers are a clear improvement over the previously required pool boarding procedure. The boarding of pools is costly and often results in further damage, while these covers not only reduce materials required but provide an aesthetic benefit that can increase the value at resale. The Association is pleased to have the opportunity to raise its independent voice within the industry to share these industry leading products with those that are responsible for their installation as well as those that will ultimately benefit from their use.
Additional information and registration for Pool Securing 101 sessions is available at NAMFS.org.
About NAMFS
The National Association of Mortgage Field Services, Inc. (NAMFS) is the premier trade association for the mortgage field service industry. We are dedicated to working with all entities of the industry from the Government Agencies and investors that set policy to the contractors and inspectors that perform the work.
About BargainLocks
BargainLocks was created by Property Preservation Contractors looking for a fast, affordable supply solution. We are committed to providing our customers with quality Field Service Supplies delivered on time. Our knowledgeable staff strives to offer you the services and products your business needs to be successful providing reliable yet affordable solutions from people who understand what you do.
###