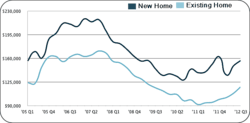 Nampa, ID (PRWEB) November 26, 2012
Canyon County Idaho Home Values started really climbing in 2005 but did not peak until 2007 and it took 4 years for prices to hit bottom. Today, home values are equivalent to 2005.
Over the last 6 months, real estate in Nampa, Idaho has started seeing positive activity. As with many markets, short sales and foreclosures kept the market and home values depressed but as that inventory has been dwindling away home values started climbing and even new construction has been seeing increases.
"Nampa, Idaho seems to lag about a year behind Boise real estate trends," noted Trey Langford, founder of BuildIdaho.com. "This spring we are expecting things to really pick up. Out of state buyers continue to move in and Nampa will become home to many of the home buyers."
Learn more about Nampa Idaho Home For Sale