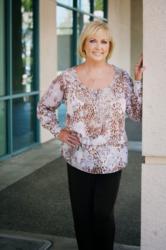 Yorba Linda, CA (PRWEB) April 04, 2013
Nancy Ferrari, host of The Nancy Ferrari Show, on W4CY Radio within The Intertainment Network features expert guests who make a difference and share insights on how life can be in a state of empowerment of passion and purpose. It is Nancy Ferrari's mission in life to share how to live in a state of balance and harmony and what is right in the world.
Nancy Ferrari's guest on April 8, 2013 at 9:00 a.m. PT/12:00 p.m. ET is Tino Luciano, executive producer/director of Law Dog Productions who wants to create classic westerns for families to watch movies of value and sharing legendary stories of the old west.
Tino Luciano was fascinated by western movies and television shows in his youth and it was during his acting role within the movie, Raging Bull, that he chose to pursue his passion. Tino has worked in the film and television industry for over ten years and has worked in all aspects of the filmmaking process from being a production assistant to an executive producer. He also owns his own stunt company, Reel Time Stunts, and has performed many daring stunts for independent films and short films.
Law Dog Productions was founded in 2012 to bring back family value programming to television and in full length feature films and dedicated to presenting core values within each and every production of their series, Tales of the Frontier. Tino Luciano discovered his true love in the film business as a director and merged his two passions to realize his dream of sharing the spirit of the old west on film and television. Recently, Tino has directed 17 episodes of the western series, Tales of the Frontier, that were featured at the Berlin Film Market. He will also be directing his feature film entitled, The Reckoning of Scarlet Waters, that is in pre-production now and slated to begin production in June 2013.
Tune in to listen to the show live on W4CY Radio on April 8, 2013 at http://www.W4CY.com. The Nancy Ferrari Show airs every Monday at 9:00 a.m. PT/12:00 p.m. ET and replays are heard on http://www.W4WN.com every Saturday at 4:00 p.m. PT/7:00 p.m. ET.
More information may be obtained within http://www.NancyFerrari.com as to upcoming guests and media appearances.