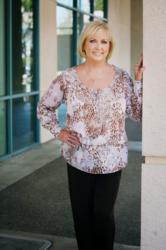 You must do the thing you think you cannot do
Yorba Linda, CA (PRWEB) January 31, 2013
Nancy Ferrari, host of The Nancy Ferrari Show on W4CY Radio on The Intertainment Network, inspirational speaker, life empowerment coach, and author will be a featured co-author in the soon to be released book, Selling With Synchroncity, available on February 11, 2013 on Amazon.com.
Selling With Synchroncity, authored by Ursula Mentjes, founder of Sales Coach Now, and sales trainer, coach and speaker will be featured on The Nancy Ferrari Show on February 4, 2013 to announce the best-seller campaign for Selling With Synchroncity. Ursula Mentjes is also the author of Selling With Intention and One Great Goal. Selling With Synchronicity shares 7 inner shifts that allow selling to be effortless as entrepreneurs and sales professionals will learn the shifts that will release limiting beliefs and fears that will allow for success in all areas of life for success and abundance.
Nancy Ferrari will share the shift of limiting beliefs and how incorporating the power of faith and belief will shift any obstacle or challenge into living in flow and achieving infinite possibilities. Nancy Ferrari also incorporates the principles of connect, evolve and discover to achieve success in every aspect of life.
The Nancy Ferrari Show airs live every Monday, 9:00 a.m. PT/12:00 p.m. ET on W4CY Radio and replays every Saturday at 4:00 p.m./7:00 p.m. on W4WN Radio within The Intertainment Network.