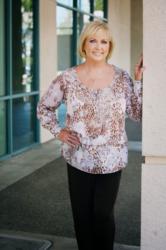 "Never give up, for that is just the time and place that the tide will turn."
~ Harriett Stowe
Yorba Linda, CA (PRWEB) October 16, 2012
Always innovative and inspiring, Nancy Ferrari appeals to global audiences as she addresses personal and professional challenges and transitions and offers tools to overcome these obstacles to live a life of clarity, empowerment and success in all areas of life. Nancy Ferrari's guests reflect this mission and offer professional expertise and insights sharing how to live a balanced life as well.
Upcoming expert guests in 2012 include Dr. Bradley Nelson, holistic chiropractic physician, expert in the emerging fields of bioenergetic medicine and energy psychology, author of "The Emotion Code and "The Body Code", as well as Karen Moriarty, Ph.D., author of "Defending a King ~ His Life & Legacy", Marsh Engle, leading transformational leader and founder of Amazing Woman: Go Global, and a variety of fitness experts, life coaches, health and wellness practitioners, best-selling authors and lifestyle experts. All her guests are listed in the media page within The Nancy Ferrari Show website.
The Nancy Ferrari Show airs live every Monday, 9:00 a.m. and can be accessed at W4CY.com and shows are replayed on the Women 4 Women Network, W4WN.com every Saturday at 3:00 p.m. PST.
Media Contact:
Nancy Ferrari Media
714.469.1782