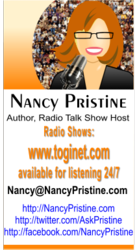 Santa Fe, New Mexico (PRWEB) May 21, 2012
Radio talk show host, motivational speaker, and author, Nancy Pristine, will be debuting on the TogiNet radio station on Thursday, May 24th at 11AM Mountain Time. The Nancy Pristine Show will be airing on http://www.Toginet.com every Thursday thereafter from 11-1PM Mountain Time (2-4 PM EST).
Nancy Pristine has been dedicated to advancing the happiness and well-being of people everywhere around the world with her books, speaking tours, and radio show for many years. "The Nancy Pristine Show" features interviews with accomplished and successful people, and offers advice and tips to help people improve their lives, personally as well as professionally. On her debut show, Nancy will be interviewing Hollywood director and actor, Marty Papazian, from 11-12 PM, and the multi-talented Kat Kramer for the next hour. Director Marty Papazian is in his 30's, and is a well-known and successful director and actor in Hollywood with a number of popular movies under his belt, including the award-winning short film "In the Wind" and "Jarhead." Actress, singer, film producer and activist, Katherine Kramer (daughter of film director Stanley Kramer, has made quite a name for herself with her film series called "Kat Kramer's Films That Change the World." These films are striking a positive note with the public, because they raise awareness on important social issues such as: Bullying and the importance of teaching your children well.
As always, Pristine's website offers news on upcoming radio shows, resources, articles, information on her three motivational books—"The Victory Dance," "Victory Dancing for Teens," and "The Zen Game"—and much more.
Keep up with the very latest from Nancy Pristine by joining her on Facebook (Facebook.com/NancyPristine) and Twitter (@AskPristine)! To start off every week with a special inspirational message, and sign up on Facebook for Pristine's weekly "Words for the Wise."