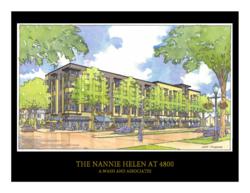 Washington, DC (PRWEB) September 22, 2011
The team of A.Wash and Associates and Northern Real Estate Urban Ventures today announced that it has selected Capital Retail Group as the Retail Advisor for a mixed use real estate project in Washington DC's Deanwood neighborhood.
"We are thrilled with the selection of Capital Retail Group team as our trusted retail advisor in the redevelopment 4800 Nannie Helen," said Anthony Wash, CEO A. Wash and Associates. "This is an impressive team with significant local expertise and a successful track record of courting quality retailers to revitalizing DC neighborhoods. We look forward to working with the team to develop sustainable neighborhood retail."
The developer will be converting several lots into a new five-story, 70-unit building of entirely affordable housing providing 92,000 square feet of mixed-use space. Existing neighboring structures include a church, single family homes and scattered retail. The new development will include 8,100 square feet of commercial space on the ground floor and 40 surface parking spaces. The 70 units of housing include 23 public housing replacement units.
The Nannie at 4800 features the following components:

Housing – 70 units of affordable housing.
Neighborhood amenities – Focus on neighborhood-serving retail uses such as an organic grocery store.
Community-focused development – Significant improvements to the existing streetscape.
Significant local, small, and business enterprises (LSBE) Participation – Participation by Washington DC-based LSBE team members in all aspects of the project, including ownership.
Fitness Center and Outdoor Playground
"This project is about more than bricks and mortar," said Gina Merritt, CEO of Northern Real Estate Urban Ventures(NREUV). "Our philosophy is 'neighborhood first,' and while we plan to create a class A building, our first commitment is to the people of Washington, DC and the existing Ward 7 community."
NREUV is a Washington DC based real estate firm focused on real estate advisory and fee development. NREUV core strengths include financial analysis, securing project financing, managing the design and construction phases of development.
A. Wash and Associates is a Washington DC Ward 7 based construction management and development firm. Since 1997, A Wash and Associates has offered an array of services including exceptional prime contracting as well as commercial and industrial electrical work throughout the metropolitan Washington DC area.
Founded in 2006,Capital Retail Group provides a full range of brokerage, property management and strategic advisory services to the commercial retail and government sectors.
###