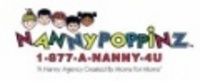 Created by Moms for Moms
ALEXANDRIA, Va. (PRWEB) January 14, 2008
Our customized solutions are available to meet your needs 24 hours a day 7 days a week. We also require our nannies be CPR certified, provide extensive references, have a minimum of three years experience, and undergo thorough national background checks -- before they are eligible to interview. Additionally, we require NO APPLICATION FEES!
Call us today. Nanny Poppinz(TM) of Northern Virginia offers temporary, part-time, full-time, and on-call childcare referral services to our clients. Our agency was "Created by Moms for Moms" so we understand how important it is that each family's unique needs are met. Shelly Randel, Susan Vaughn and their staff are here to take the stress out of finding the right child care professional to meet your needs.
For additional information on Nanny Poppinz, please visit our website at http://www.nannypoppinz.com/NorthernVA or contact Shelly Randel, Susan Vaughn or Brittany Vaughn at (703) 873-7574.
Nanny Childcare Franchise Opportunity Fact Sheet...
Download here: Nanny_Franchise_Opportunity_FAQ.pdf