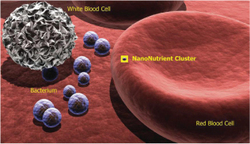 Orem, UT (PRWEB) March 19, 2009
Nano Pet Health is proud to annouce a breakthrough in wet nanotechnology that is now available to the public. Nano Pet Heatlh contains nutirents wrapped in water in a size so tiny they are instantly absorbed by the cells. One tablespoon of the nano nutrient formula has more nano particles than there are cells in the human body.
Good food is critical for all pets - feed them well. But do not rely on traditional vitamin pills to supplement their diet! Pets only absorbs, at best, 10-20% of the vitamin pills given to them - the rest is waste. Now pet owners, who are concerned about their pet's health and vitality, have a simple and unique solution to this old problem. Now pets can have 100% absorption of the vitamins, minerals, enzymes, amino acids, etc. that they need in a totally organic formula.
Through innovative, patent pending techniques, Nano Pet Health delivers the nutritional particle in a cluster of water merely a fraction of the size of a white blood cell. However, in the nano world, smaller makes for better bioavailability. Each water cluster has a nutrition particle at its core. These are not your common feed components. These are particles used cellularly to achieve maximum healthy operation. When cells are healthy, they are able to ward off viruses and bacterium, produce energy, and grow.
The Nano Pet Health particle does not have to breach the stomach barrier. Due to its size, it begins assimilation while the water is in the mouth and the tongue. Digestion is not required. And since the shell of the cluster is water, the body/cells see it as a friendly particle that is readily absorbed. The water provides hydration. The central particle provides nutrition. Pets get the nutrition they need and pet owners can delight in knowing they have done the best for them. Just put ¼ to ½ oz (depending on your pet) in their water daily - that's it.
A spokesperson for Nano Pet Health said: "Many pets suffer from a weak immune system due to the ineffective absorption of the right vitamins and minerals. Our formula allows them to enjoy numerous health benefits in a completely natural way. We do not target symptoms and have different 'cures'. We go after the total health of each cell - thus giving you a vibrantly healthy pet. Our formula provides for a stronger heart, immune system, muscles, joints, skin, and coat. Our test on over 20,000,000 animals indicates that if you have a strong healthy animal his body will fight off most infections and diseases and have substantially increase vitality."
Any pet can drink this water, and it is molecularly cleansed to be pharmaceutically pure. There are no hormones, steroids, it is 100% natural - just pure healthy water wrapped around all the nutrition your pet needs for optimal health. On top of all this, it will not get in the way of any special dietary requirements, and it will not matter in the slightest if the pet is on medication.
For more information and full nutritional list, please visit us at http://www.NanoPetHealth.com.
# # #