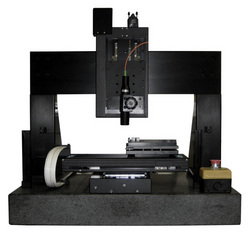 The addition of the cleanroom design to our line of Profilometers will allow Nanovea to work closer with strict environments, and once again shows our dedication to ingenuity
Costa Mesa, CA (PRWEB) January 29, 2009
With the use of "clean" motorized linear stages and the proper selection of materials, Nanovea's engineers custom designed a Profilometer that would be compatible with the strict Class 1 Cleanroom standards. Class 1 Cleanrooms have a tightly controlled level of contamination and allows for very few particles of any kind.
The material selection of the Profilometer was crucial in the design of the X-Y stages so that few particles are emitted into the air during testing. The Profilometer was also designed with a high degree of flatness, accuracy and with a level of automation that allows the user to measure multiple areas and stitch them together. This will allow the user to create one large, planar surface in order to compare relative flatness with very little user interaction. The measureable area of the custom Profilometer can be as large as 30cm x 30cm with vertical resolution down to 2nm. A design is also available to scan large, heavy and even immoveable parts.
This is only a glimpse at the Profilometers Nanovea's engineers have customized. They have also provided a custom built high-speed Profilometer with speeds over 30,000 points/second and machine vision with image recognition to improve efficiency. Additionally, Profilometers have been built with custom scanning capabilities to acquire surface measurements from both the top and bottom surfaces while measuring the thickness of the material, all with nanometer resolution.
"The addition of the cleanroom design to our line of Profilometers will allow Nanovea to work closer with strict environments, and once again shows our dedication to ingenuity," said Craig Leising, Product Manager Nanovea, Inc.
###