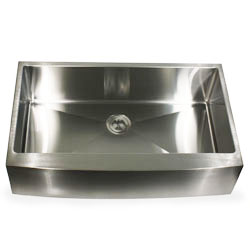 Nantucket stainless steel kitchen sinks are made from high grade 304 stainless steel and are designed to last a lifetime
Aiken, SC (PRWEB) November 05, 2012
Nantucket Sinks have a product line that conforms to the grace and splendor of the island of Nantucket while providing a timeless functionality. Company mission is to produce products that can seamlessly balance the ever-changing needs of the modern kitchen and bathroom with the enduring elegance and beauty that the customer seeks.
Customers looking for a sink that mimics a weathered style and provides that unique focal element they desire can view the specialty metals sinks section and find a beautiful collection of hand forged copper and brass vanity sinks in four plating options. Exclusive designs, Nantucket hand hammered copper, nickel, brass bathroom sinks are designed to be over or undermounted. These sinks are for individuals who appreciate the extraordinary craftsmanship of handmade objects. Perfect for the luxury master bath or guest powder room, each sink is created by an individual artisan who forms the sink's unique characteristics.
Nantucket stainless steel kitchen sinks are made from high grade 304 stainless steel and are designed to last a lifetime. They come in four categories: self-rimming or undermount, single bowl or double-bowl sinks. These sinks are made from heavy 16 and 18 gauge stainless steel and range from traditionally curved radius to new trendy zero radius sinks. In addition to aforementioned categories there are two models of stainless steel apron front (farmhouse) sinks made out of 16 gauge steel in sizes 30" x 20" and 33" x 21".
Nantucket offers also porcelain kitchen apron front sinks and undermount bathroom sinks.
All Nantucket Sinks are available now at Warehouse USA.
Warehouse USA is an online retailer specializing in kitchen and bathroom fixtures. They offer plumbing supplies from more than 20 manufactures. Most items are in stock and ready to ship within 1 business day. Affordable prices and coupons help customers to find the best deals on the budget. Using Warehouse USA website should make choosing the newest and best bath fixtures easy and creative - no more worrying about costly mistakes. Knowledgeable customer service is there to assist and help.
Technical support is available online or by phone at 888-693-8066. For more information please visit: http://warehouse-usa.com