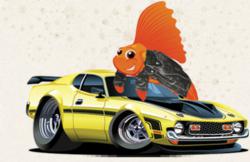 I think that that's the difference between a good actress and an Academy Award-winner.
New York, NY (PRWEB) June 17, 2012
RoadFish.com men's lifestyle and finance magazine commends the recent decision of actress Naomi Watts to move to London, into Princess Diana's old neighborhood no less, in Watts' attempt to soak up the surroundings of the late Princess before her upcoming role as Princess Di in "Caught in Flight." RoadFish.com appreciates the devotion that Watts possesses in committing to the role and commends Watts for accepting a role in what is sure to be a highly controversial movie.
The London estate agents are going to be dueling over who gets to help actress Naomi Watts choose her abode in the London neighborhood of Kensington in the upcoming months as the actress reportedly relocates there for a role. According to Claire Rutter of EntertainmentWise.com, Watts is reportedly planning to move to England to fully immerse herself in British culture as she prepares to portray the late Princess Diana in an upcoming film. The movie, director Oliver Hirschbiegel's "Caught in Flight," is stated to revolve around Princess Diana's last years on earth, including an alleged love affair. According to Rutter's article, Watts is "terrified" to depict such a prestigious historical individual on film and wants to gain as much insight into Princess Di's world as she can before starting production on the movie. EntertainmentWise.com reports that she will move to Kensington, which of course is significant since Princess Di held royal residence at Kensington Palace.
RoadFish.com commends Watts for her upcoming move to London to get into character, and further applauds her for accepting a role in such a controversial film. RoadFish.com's Senior staff writer is quoted as saying, "I think that that's the difference between a good actress and an Academy Award-winner. I wouldn't be surprised if this film, this role, wins Watts her first Academy Award. Her devotion to the preparation for the role is admirable to say the least. It takes a committed actor or actress to really throw themselves into a character, and I believe that that is exactly what Watts is doing. She is sure to give a stellar performance when the time comes."
MovieFone.com reports that the plot of the upcoming film is expected to center upon Princess Diana's alleged love affair with British/Pakistani heart and lung surgeon Dr. Hasnat Kahn, an extremely controversial issue. The film apparently does not portray the beloved Princess in a favorable light, however Watts remains optimistic about portraying her character on the big screen. In the article Watts is quoted as saying, "It is such an honor to be able to play this iconic role. Princess Diana was loved across the world and I look forward to rising to the challenge of playing her on screen."
Watts was originally born in Great Britain, though her career began with Australian television. She made the transition to the big screen, making her film debut in 1986 with her role in "For Love Alone." Throughout Watts' career as an actress, she has been nominated for several awards including an Academy Award for Best Actress for her performance in "21 Grams," the London Film Critics Awards for Best Actress for her role in "King Kong," and the Australian Film Institute International Award for Best Actress for her performance in "Mother and Child." She went on to win many awards for her performances in "21 Grams" and "Mulholland Drive," and has also been featured in People Magazine's "50 Most Beautiful People."
RoadFish.com believes that Watts is the prime candidate for this role. RoadFish.com's Senior staff writer is quoted as saying, "I believe when playing a character of such great stature, it's important to approach the role with respect and dignity, and it certainly seems that Watts is doing so. I appreciate the way she is committing to the role of Princess Di, diving headfirst into her surroundings. In my opinion, they couldn't have found a better actress to play the role [of Princess Diana]."
The above-mentioned MovieFone.com article adds that actress Jessica Chastain was set to play the role of Prince Di, but that Ecosse Films has recently confirmed that in fact Naomi Watts will be playing the role instead. The article states that production for "Caught in Flight" is set to start shooting later in the year.
About RoadFish.com
RoadFish.com is an online men's lifestyle and finance magazine targeted toward men in their 30's and 40's that have already attained a moderate level of success in life, and are striving toward more. It goes over current events of interest to this group, such things as exciting adventures, consumer interests, hot chicks, and the latest in computer software and electronics as well as ways to make more and save more money. It is a publication owned by Purpose Inc.