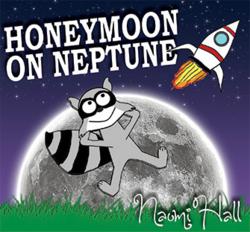 I like rubbing things on my teeth, such as brushes and floss, and my FINGERS!
Seattle, WA (PRWEB) December 10, 2012
Seattle-based solo female artist Naomi Hall returns from a six year hiatus with the quirky titled release, "Honeymoon On Neptune."
The avant-garde pop album reunites Hall with producer Gary Reynolds and features 11 tracks, including a Syd Barrett/Pink Floyd cover. Hall's rendition of "The Gnome" is a mash-up of electronic rock and odd piano pop. This genre fusion weaves in and out of many tracks, including the opening track "FINGERS!" that contains playful lyrics like "I like rubbing things on my teeth, such as brushes and floss, and my fingers." These simple, child-like lyrics are anything but new for Hall. Rather they serve as a refined re-entrance to the outsider music community in which she gained fame after her surprise mini-hit "Something About Ishka."
"I believe music is a statement of where an artist is in life," Hall says. "I went through a tough time when I recorded [Love Full of Punches] and I think it was pretty noticeable! But a few years later, I feel very settled and happy with who I am. Because of that, I wanted to go back to writing upbeat feel-good songs about stuff that inspires me and others and keeps people happy. I think this new album reflects a lot of that."
Most of the happily inspired songs on "Honeymoon On Neptune" were recorded by Hall herself at home, while Reynolds added Beatles-like instrumentation and direction in the studio. Of working with Hall, Reynolds says, "Naomi Hall is a musician I'm always honored to record and produce. She is creative and entertaining all at once. When she sang that she'll eat dandruff like a line of coke, I nearly died laughing. Naomi genuinely wants to have fun, she wants people to laugh and have a good time. She's got a collection of songs out now proving just that."
"Honeymoon On Neptune" officially launched December 4, 2012 and is currently available on iTunes, Amazon, Spotify, and all other digital stores.
For further information on Naomi Hall, please visit her official website at http://www.naomihall.com