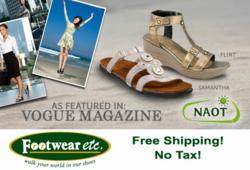 "It is amazing to watch the growth in popularity of the Naot brand!"
Sunnyvale, CA (PRWEB) April 30, 2012
Footwear etc. is excited to introduce dozens of new styles of sandals, slides, shoes, and flip flops from Naot. These shoes are expertly crafted in Israel to create outstanding fit, support and style. Customers are able to shop Naot' s featured styles in Footwear etc.'s nine California locations. In addition, customers can go online and shop the entire Naot collection of over 600 styles for men and women.
This Spring, Naot and Footwear etc. partnered to premier an in-flight Naot video on all Virgin America flights. This video features the history of Naot, benefits of Naot footwear and some of the popular new styles. Footwear etc. Director of Marketing, Rebecca Monarch added "We are very excited to be partnering with Naot on this video. It is amazing to watch the growth in popularity of the Naot brand! We hope this video will allow more people to become exposed to Naot and experience the unbelievable comfort and support that our current customers love."
Naot shoes all contain outstanding support. Each has an anatomic cork and latex footbed, arch support, and leather linings. Naot's attention to detail shows in the imaginative and fashion-forward styles. Customers tend to be extremely loyal due to the extreme comfort and beautiful styling of these shoes. One reason Naot shoes are so popular is their versatility. Many customers can take one pair of Naot shoes on a trip and use them for both casual and dressy wear.
New Naot models include a wide variety of shapes and styles. One example is the women's Relate - a sandal with a 3" heel that is elegant and comfortable. Available in brushed black leather and biscuit leather, this platform sandal has beautiful embellishments in the leather upper as well. A beautiful new slide is the Surprise. Available in black, quartz/silver, bronze and gold, this incredibly comfortable slide is easy to wear and very elegant. For those who love wedges, the Peace is a great choice that's available in acropolis or mirror leather. A casual thong style is the Orlando. Available in black thread, aqua, navy material, or aluminum foil synthetic leather, this shoe provides phenomenal comfort. This is just a sampling of the beautiful new shoes available from Naot this spring.
The entire Naot Shoes Spring Collection is available now online at footwearetc.com and at their retail store locations in Northern California and San Diego.
About Footwear etc.:
Footwear etc. is a well-established, family-owned business, headquartered in Silicon Valley, CA since 1986. The company is committed to improving customers' quality of life by offering brand name products that demonstrate their belief in the need for healthful, comfortable and fashionable footwear. Footwear etc. operates nine retail stores located throughout the Bay Area and San Diego, and also offers their products on their website and catalog. To find out more, please visit http://www.footwearetc.com.