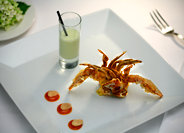 We are truly honored to be selected as one of the top 100 restaurants in the country.
Healdsburg, CA (PRWEB) December 23, 2011
Madrona Manor, one of the most celebrated places in Sonoma or Napa for fine dining, has been honored by reviewers on OpenTable.com with a spot on the site's annual list of the top 100 "Best Overall" restaurants. The list is culled from more than 10 million reviews of 12,000 restaurants nationwide. Ten of the restaurants on the list are in California, and Madrona Manor is one of only three Bay Area restaurants to make the cut.
"We are truly honored to be selected as one of the top 100 restaurants in the country," says manager Kevin West. "OpenTable reviewers are known for their selectiveness and high level of knowledge about the fine dining experience. Their vote of confidence tells us that our dedication to using the finest locally sourced ingredients to create imaginative dishes is appreciated."
Nestled in an elegant Victorian estate that is known as one of the finest luxury hotels in Napa or Sonoma counties, the restaurant of Madrona Manor is run by Chef Jesse Mallgren, who has total creative control over the kitchen.
Since 1999, Chef Mallgren has been creating inspired cuisine at Madrona Manor. He specializes in superb new California cuisine based on a classic French foundation of sauces and stock punctuated by global influences. Chef Mallgren honed his culinary skills alongside some of the most esteemed names in the culinary world, including Jeremiah Tower and Gary Danko. He is known in culinary circles for his unconventional ingredient pairings.
Under Chef Mallgren, Madrona Manor has received considerable acclaim. It was recently awarded its 5th Michelin Star in a row. Additional honors include a 27 Zagat rating and "Zagat Top Spot" award, a Top 100 Bay Area Restaurants honor from the San Francisco Chronicle in 2009, and glowing reviews from Wine Spectator and the Press Democrat, among others.
OpenTable reviewers rave about the ambiance, superior service, extensive wine list, and incredible cuisine at the Healdsburg fine dining restaurant.
"The attentive staff and the exquisite food made for a truly memorable meal at the Madrona Manor," raved one reviewer.
"Our experience at Madrona Manor was exactly what you want an excellent dining experience to be," said another. "One of the most outstanding dining experiences in recent memory, and believe us, that's saying a lot."
For more information about Madrona Manor, call them at (866) 319-8212 or visit them on the web at http://www.madronamanor.com.
About Madrona Manor
Nestled in the hills above the Dry Creek Valley of Sonoma County, Madrona Manor is an exceptionally lovely Victorian estate surrounded by eight acres of wooded and landscaped grounds. The Mansion, built in 1881, has been a destination for discerning guests seeking a stay in the gracious wine country of northern California since 1981. Whether visitors come to get away from it all, or to reconnect with friends and loved ones, Madrona Manor is one of the finest locations for an out-of-town weekend, party, executive retreat, or wedding reception in Napa or Sonoma Counties.
Visitors are invited to enjoy a romantic meal in the acclaimed fine dining restaurant, engage in quiet conversation with drinks on the veranda, or relax by a cozy fire in the winter or the pool in the summer. At the end of the day, a peaceful night's stay awaits guests staying in any of the elegant rooms.
###